When the red-hot, World Champion Red Sox left Boston for the All-Star break, Fenway Park was transformed into a different sort of dream-scape. For devotees of the fastest growing sport in America the conversion is the latest iteration of "A Field of Dreams."  With the addition of 12 pickle ball courts the landmark of baseball legend is temporarily welcoming a new ball to bounce along the first-base line and in front of the Green Monster.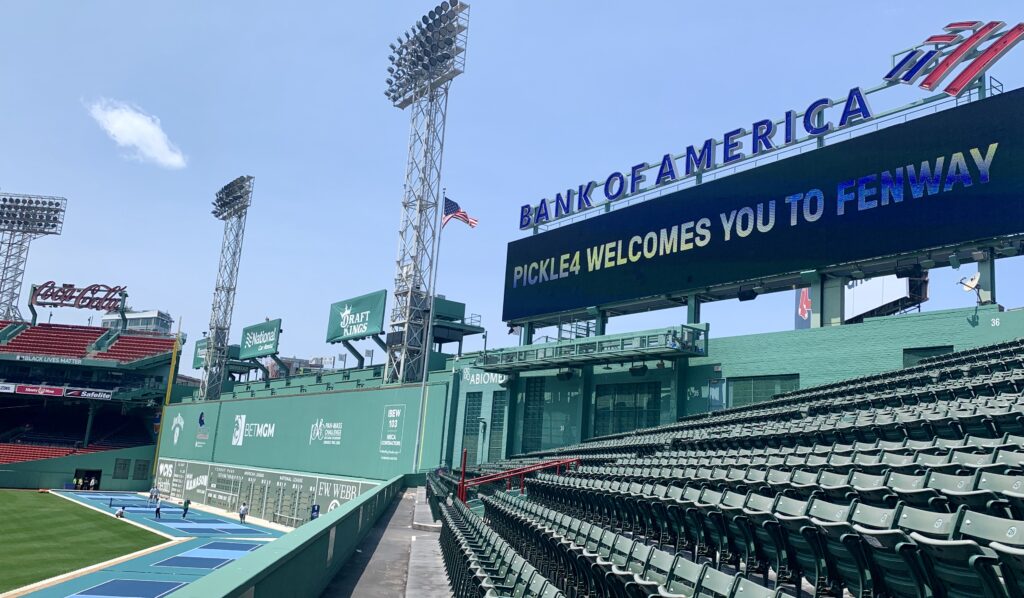 From July 12-16, PICKLE4 America is converting the iconic emerald diamond into a sea of blue. The effort was painstakingly detailed and the field is now ready for a spectacular new brand of action.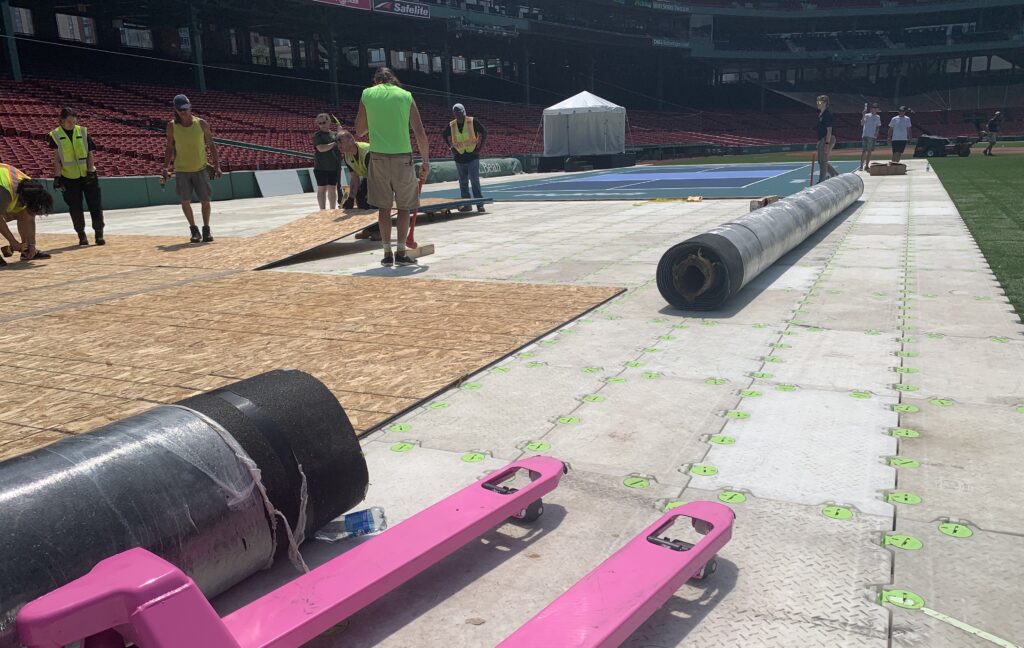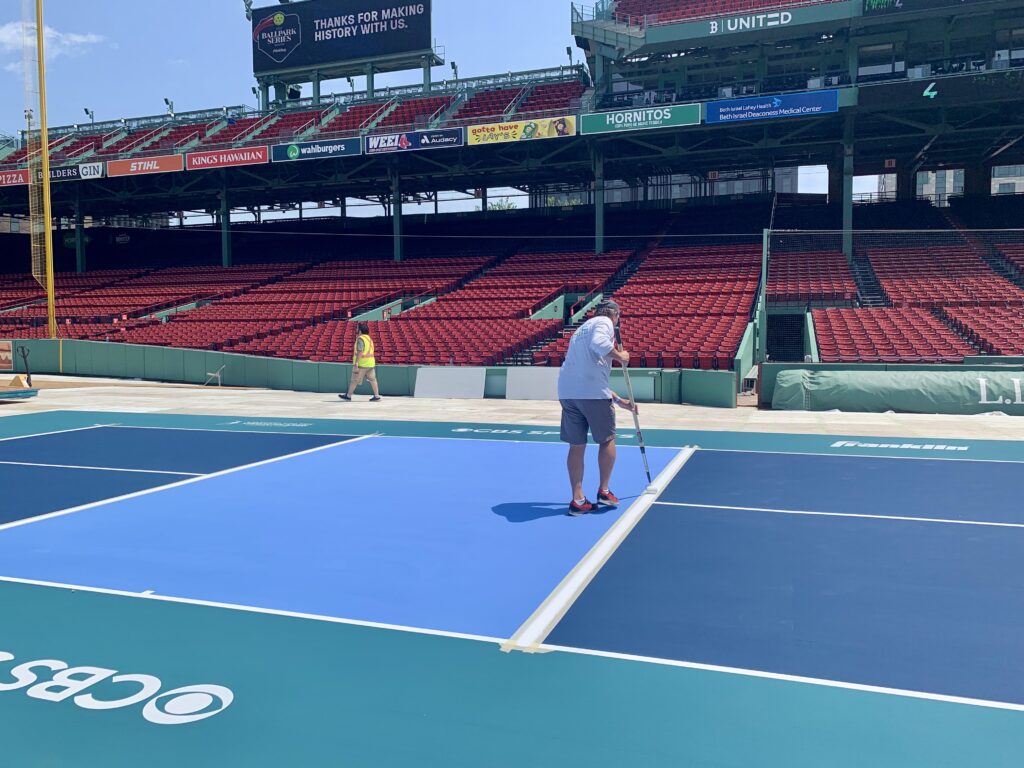 Hugging the first base line, Championship exhibition matches will feature the extraordinary athleticism of pickle ball's rising stars. Other courts, available to rent, are reserved for enthusiasts of the game that's cast a spell on players from coast to coast.
Dedicated to building a robust eco-system for pickle ball, Ben Weinberger, President of Pickle4 America, organized the pickle4 tour to travel to baseball fields across the country.  He said in a pre-inaugural event interview at Fenway, "Because the sport appeals to people from 8-88 this exhibition tour will interest a broad range of folks who play or are simply curious about pickle-mania.  The sport has an easy learning curve and a supportive group to welcome everyone. Irrespective of one's ability, the benefits of being part of the pickle-community builds a network of healthy relationships. Pickle ball fosters movement, socialization and habits that maintain healthy lifestyles for all generations."  Weinberger believes "The addiction to pickle is real and a very positive one!"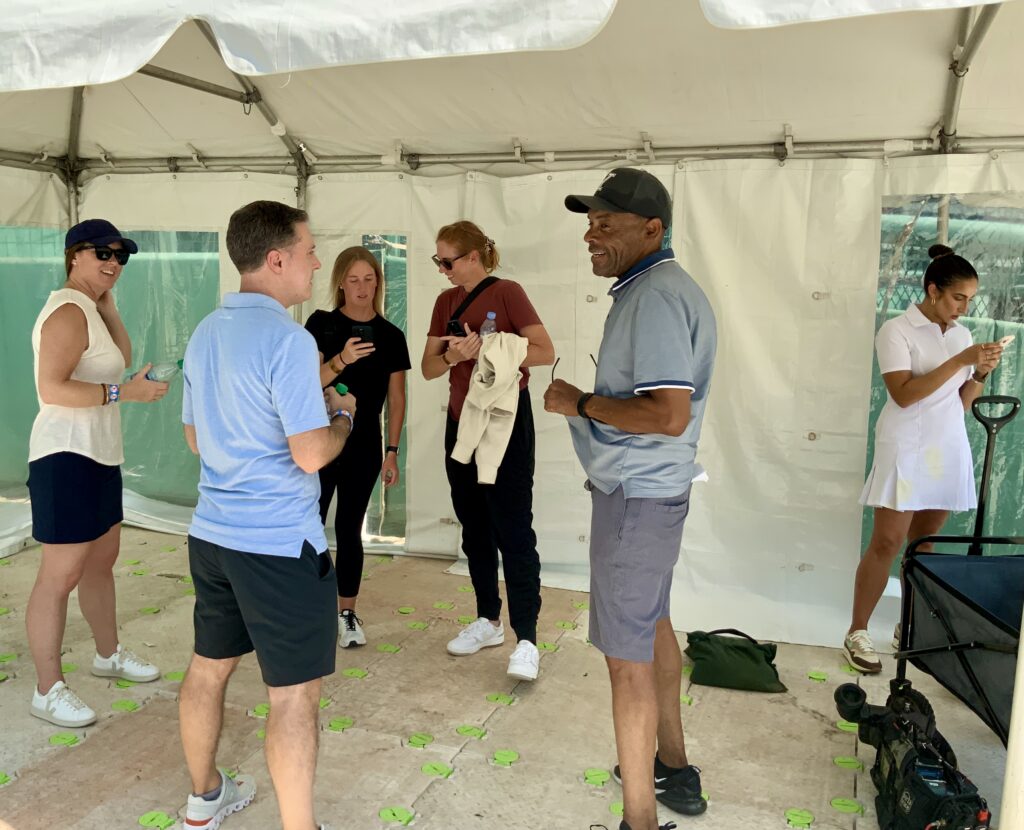 President of Pickle4America, Ben Weinberger, outlines what to expect during the professional showcase to a few of the top-raked pickle pros and TV crews.
The 2023, US Open Pickleball Championship Series, Woman's Doubles Gold medalists, Stacie Townsend and Brittany Hubschman will be on the Championship court at Fenway to WOW audiences, as will top men's tour players JW Johnson and Andrei Daescu.  Stacie and Brittany said after playing other team sports,  (softball, not tennis) they've come to pickle ball enthusiastically.  For them the sport offers a new landscape of competition with an exciting horizon.
As charming as they are accomplished, the two offer rookie players a few insider tips of their trade. They recommend players avoid the hype of trying to "buy- the-best" performance equipment. Every player needs a racquet that feels right for themselves. More than cute colors, weight and grip-comfort are two considerations to beware of to help avoid tennis elbow. Modifications that are legal include padding or shaving grip-handles as well as using lead-tape to add weight to racquet frames. What is illegal and a violation of pickle rules, is to add hairspray to racquet surfaces adding tackiness to the sweet spot.
The atmosphere in and around Fenway is as eclectic as a carnival. Hot dogs, cool beverages, kids-clinics and vendors offering a variety of pickle related swag inside the park help celebrate the exciting sport with fans.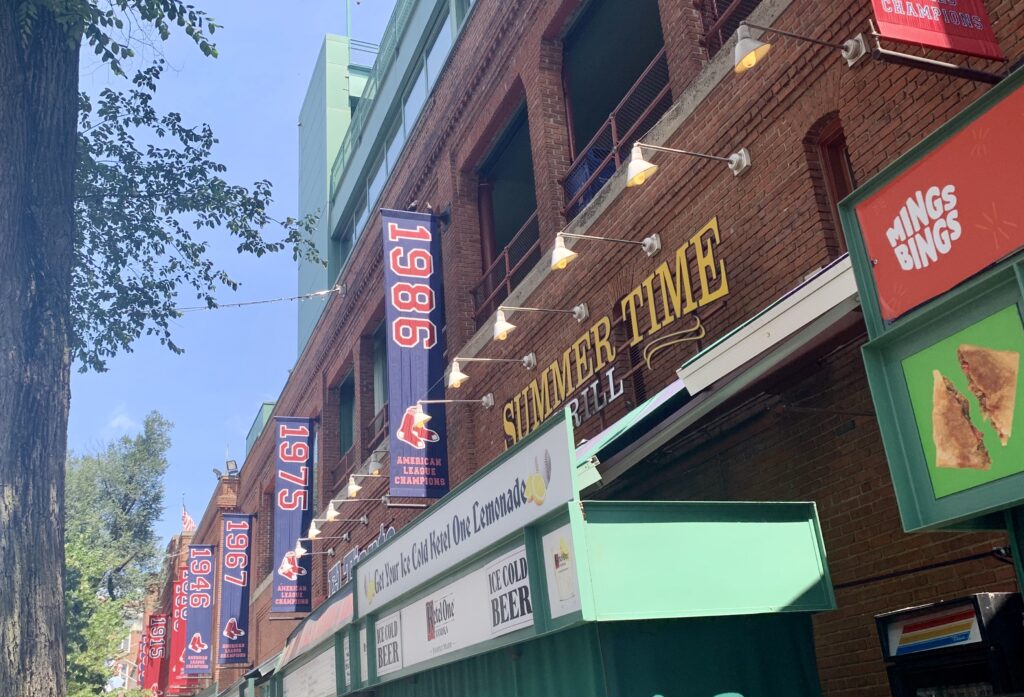 If you can't make it to Fenway this week, CBS-Sports will televise live pickle action Friday evening 7-10PM. Pickle4 America tour has upcoming matches scheduled in San Francisco's Oracle Park July 20-23, and in Denver at Coors Field August 3-6.
But, the best part of pickle is anytime you find a friend, some racquets and a few yellow plastic balls to hit with.  No matter your age, 'Playing Pickle with Pals in a Park' is more than a tongue twister ~ it's a passion!  As the Red Sox say… "PLAY BALL"