Welcome to 'She the People News', a game changing magazine that thinks in pink ink. STP- News explores the world of business, culture and politics from a woman's point of view. We promise to take the news seriously, but never ourselves.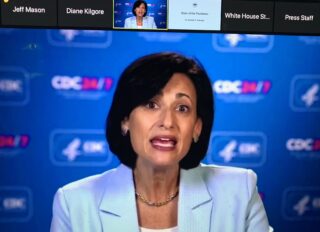 Making a long story super short, this morning the CDC Director, Rochelle Walensky,MD said 64 million people in the US remain unvaccinated. Of those who have been vaxed to the max, it's time to get a boost: if you had the Johnson and Johnson Covid-19 vaccine more than...
read more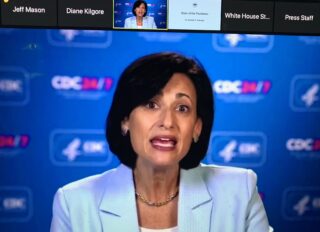 Making a long story super short, this morning the CDC Director, Rochelle Walensky,MD said 64 million people in the US remain unvaccinated. Of those who have been vaxed to the max, it's time to get a boost: if you had the Johnson and Johnson Covid-19 vaccine more than...
read more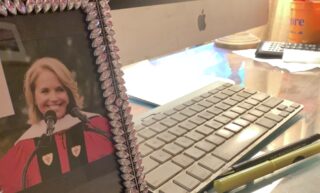 I hadn't noticed until this morning, the picture I keep beside my keyboard of Katie Couric has lost it's luster. Full disclosure I've been a fan-girl of Kaite's for-eva!  When I started my internship at CBS's Boston affiliate, WBZ-TV, Katie Couric was anchoring the...
read more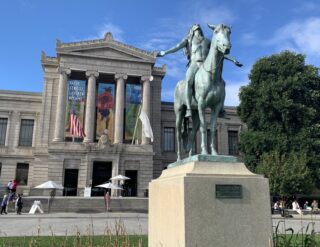 The Museum of Fine Arts revisited the metaphor "Life begins in the Garden" at it's Huntington Avenue entrance.  The Cultural Hub, recognized by it's focal point monument, 'Appeal to the Great Spirit', is an ideal setting to seed conversations about the history of...
read more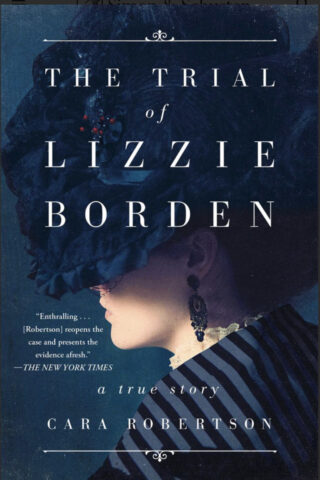 Clara Robertson is a steward of Lizzie Borden's mysterious legacy. Robertson's book, 'The Trial of Lizzie Borden' offers amateur-sleuth'ers a graphic look at the Borden murder scene, criminal investigations and court proceedings. Beyond those details, Robertson's law...
read more
Pulitzer Prize winner Stacy Schiff approaches the history of the Salem Witches from a unique vector. She likens the pubescents who crafted 'witch-mania' to modern day pop-stars. Irrespective of the century, the cohort thrives on attention. In a fun and fabulous phone...
read more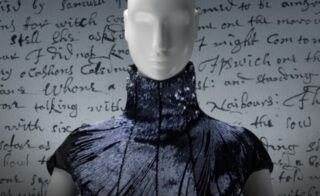 As summer-lights dim and brimstone colors of autumn crunch under our feet the mind's eye often conquers up dark shadows of women on broomsticks cackling in air stirred by legends of the Salem Witch Trials. Folklore of the Colonial Village can be fun, however, it's...
read more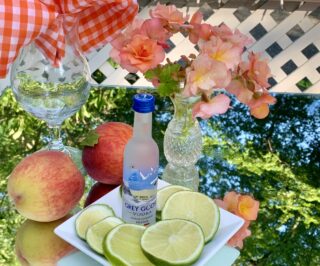 Packing up your beach bag for the weekend and wondering what to toss into your Yeti? A 'Peachy Beachy' is wicked easy to whip up, takes advantage of the most luscious fruit of the season and is totally DELISH, aka ~ total score! The 'Peachy Beachy'  is a quick mix of...
read more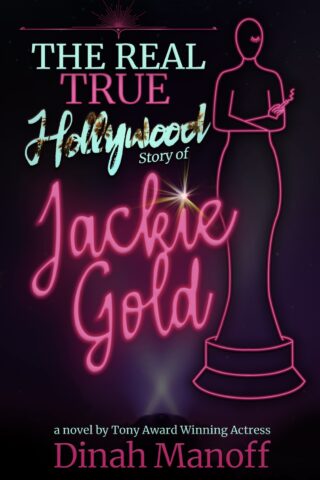 Dinah Manoff has written a novel novel. At first blush the black lacquered book-cover with pops of hot-pink makes ya think 'The Real True Hollywood Secrets of Jackie Gold' will spill across the book's pages like chardonnay on a summer day. It certainly can read like a...
read more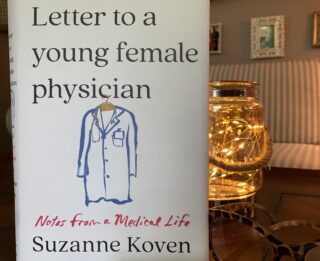 Suzanne Koven, M.D. doesn't practice surgery, although the way she dissects the body of her medical career and sutures it back together in prose indicates this chick has mad-skills. Dr. Koven is a primary care physician, a member of the faculty at Harvard Medical...
read more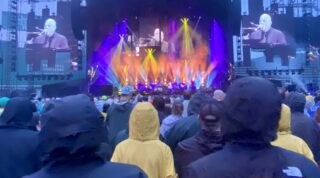 Billy Joel rocked-out of his covid-induced performing-hiatus Wednesday night.  Even before *'The Natural'  talent stepped on stage his fans were in a fevered pitch. The venue was a classic match-up of greats. The "Green Monster' of Fenway Park framed the 'New York...
read more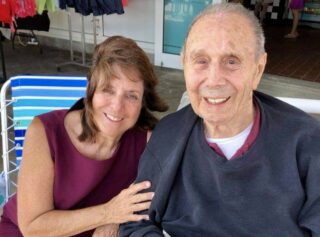 If your heart has felt the soft-rock lyrics of Dan Fogelberg's song "Leader of the Band" you have a sense for Patricia DeRosa Padden's commitment to honoring her 99 year old dad's legacy. To hear her sing his praises is to listen to a love story. Her phrasing is...
read more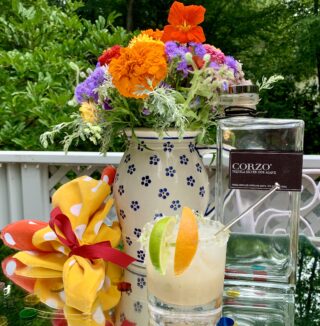 If you've ever heard Harry Nilsson sing the song that says "You put de lime in de coconut, you drink 'em bot' togedder. Put de lime in de coconut, then you feel better "  you'll understand the classic lyrics even better after you pour yourself one of these creamy,...
read more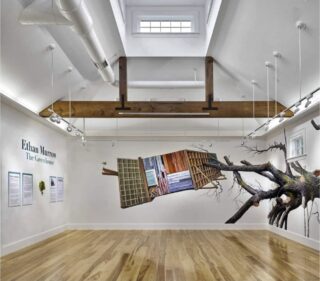 Inside a little Cape Cod art gallery is an extraordinary painting of an ordinary oak by Ethan Murrow, a mighty talented guy.  The decaying tree and the imagined energy that surrounds it are a modern-day riff on Heraclitus' philosophy "All is flux. Nothing stays...
read more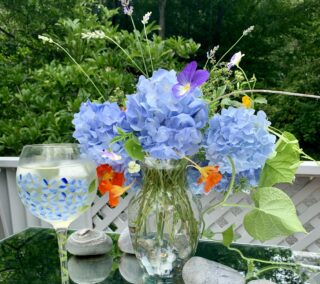 Ahhhh hydrangea season, those big blue mop heads are a signature of long warn summer days. Without being fussy they brighten corners from city scopes to seashores. As buds go, they're as cool as a summer time romance can be. If they inspire you to sit and chill...
read more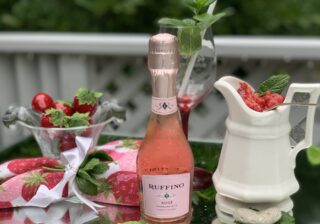 Tradition is part of Wimbledon.  There's simply no reason to change a good thing when the good things include strawberries, cream  ~ and two gorgeous hunks! A traditional Breakfast at Wimbledon calls for a proper dish of ripe strawberries to be served with cream....
read more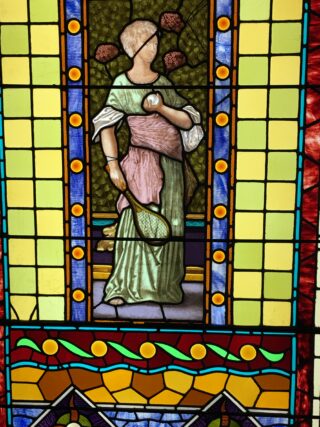 Ranked # 1 in the world, 25 year old Ashleigh Barty of Australia, a member of the Ngaragu people, won the Women's Finals at Wimbledon today. Her opponent was 29 year old Karolína Pliškosá of Czechoslovakia. The court-contest was a nail-biter. Both women relied on...
read more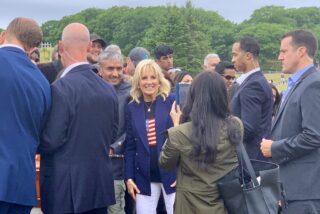 Kicking off the holiday weekend in style, Jill Biden marked her first 4th of July as First Lady at Portland Head Light in Maine's historic Fort Williams Park. Rocking the look of an All-American girl, the 70 year old made a fitting fashion statement even before she...
read more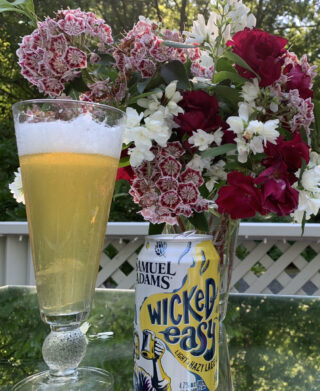 'Wicked' is the way we live in Boston. It's more than a word, it's a state of mind. The Boston Red Sox are a wicked good major league baseball team ~ especially this year. Some summer nights in Boston can be wicked scorch~a's Even...
read more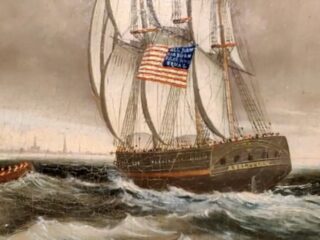 By converting galleries into symbolic ports-of-call The Peabody Essex Museum has earned a reputation for expressing Maritime Culture in exotic waves of thought. Their latest exhibition, "In American Waters" surrounds visitors with art splashed with pride, profits and...
read more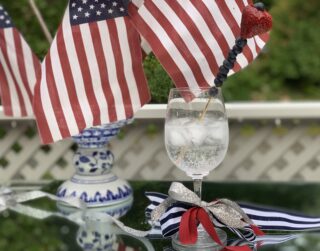 This little sparkler can brighten any day, but it's especially fun when you're honoring Flag Day. It doesn't really need a recipe. It's a splashy mix of iced sparkling water, garnished with red and blue berries. Of course, if you add your favorite white wine, even...
read more