Shipwrecks, by Alexis Rockman, is a color-coded thesis on the environment.  Evocative of Herman Melville's, mythical novel, Moby Dick, these paintings rock between maritime latitudes and climate-change attitudes.  Get your sea-legs on, this PEM exhibition, organized by Andrea Grover of East Hampton's Guild Hall,  is visually and emotionally intense.
Hallucinogenic in style, Rockman's trippy creations are graphic advocates for environment protection.  Heroic in scale, painted on wood, each contemplation is a technicolor statement on the impact migratory goods, people, plants and animals have on our ever-changing planet.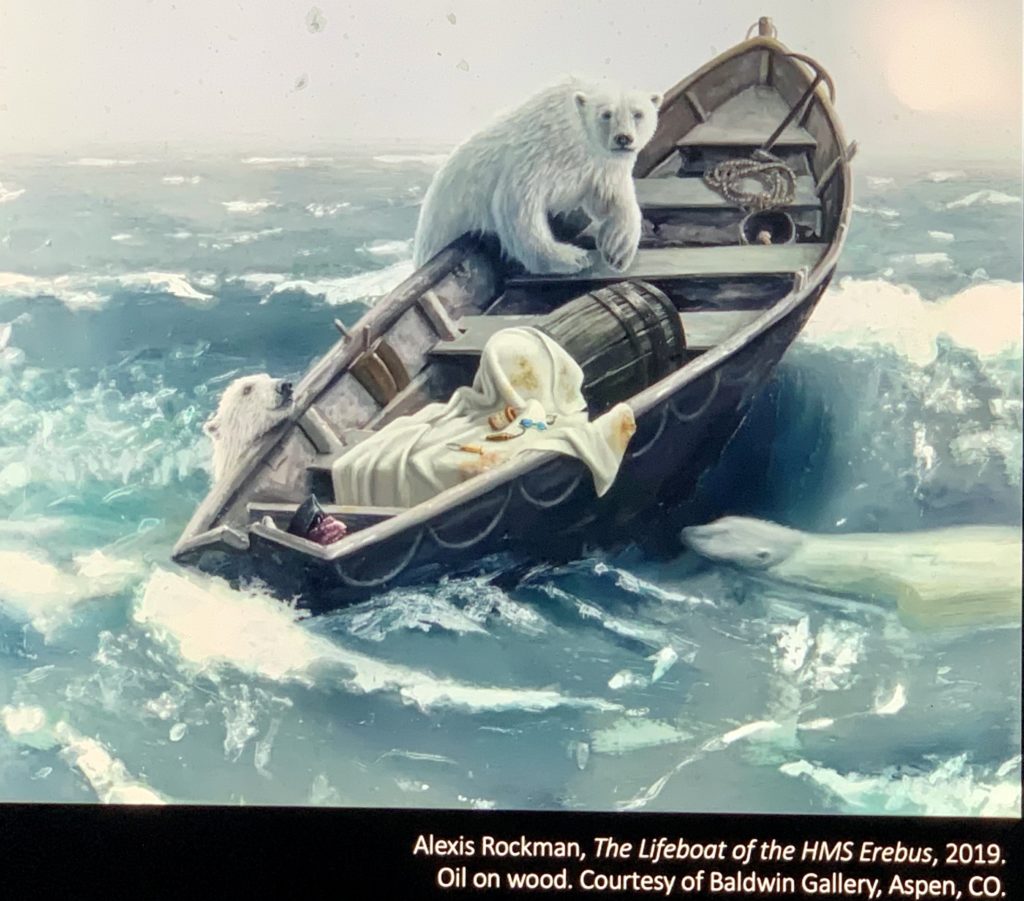 Presented in the East India Marine Hall, contemporary Shipwrecks are metaphorically anchored to antique Figureheads. The fusion creates an opus of atmospheric pressures that sweeps between centuries.
Rockman's radical vision of the sea juxtaposes nature's fluid elegance with environmentally kinetic tensions. The nautical novel he paints, speaks in alarming tones of ambiguity, irony and dread.  Rockman's work is both breathtaking and heartbreaking to experience.
Speaking in a Zoom chat-room, with 400 museum guests, organized by PEM's Dan Finamore, curator of Maritime Art, and Trevor Smith, Curator of Present Tense, the artist said there's no time left for subtle conversations about the environment. He's immersed in the process of creating climate conversations of urgency.  Annexing literature, scientific research, the musical inspirations of Jordan Corngold and the sound track to the Life of Pi his visions are premonitions of the world we are destroying.
Catch Alexis Rockman's synthesis of thought on exploitation, extinction and climactic evolution at the Peabody Essex Museum Now- May 31.
Peabody Essex Museum: East India Square 161 Essex Street, Salem, Ma
Guild Hall: 158 Main Street, East Hampton, NY
Jordan Corngold: Emmy Nominated music editor
Life of Pi soundtrack: Classical Indian Music