Billy Joel rocked-out of his covid-induced performing-hiatus Wednesday night.  Even before *'The Natural'  talent stepped on stage his fans were in a fevered pitch. The venue was a classic match-up of greats. The "Green Monster' of Fenway Park framed the 'New York State of Mind' entertainer with the kind of magnetic charge reserved for icons.  Not even a cold-drizzle damped the electric connection between the Big-Leaguer and the crowd that waited patiently to hear 'The Piano Man' play his first gig in 18 months.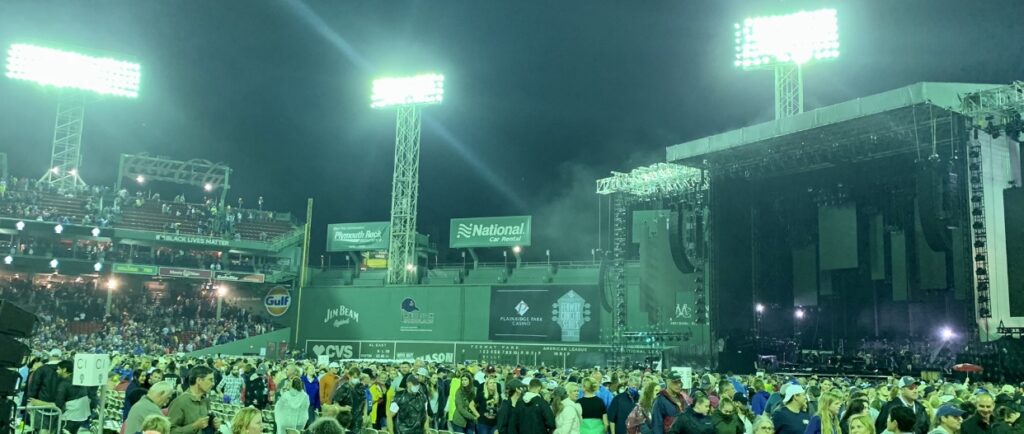 Sometimes a benched player takes a while to warm-up, they lose their rhythm and can't find their pitch. In contrast, time-off seems to have juiced this legendary performer's mo-jo. The 72 year old is visibly thinner, more agile than he's been in recent years and played to the multi-generational crowd with as much charisma as he's ever had. Donald Kidd who flew into Boston from Portland, Oregon called the season opener  " an absolutely perfect show".
Joel opened with "My Life"  then for two hours played the soundtrack of ours.  "She's Always A Woman to Me" was in-synch with a front-row marriage proposal that immediately ricocheted around the Park into a technicolor phone-sex classic ~"It's Just a Fantasy".  Gone are the tight blue jeans, wavy hair and leather jacket of his early career, but the genius still owns center-stage. The guy from LI tore Fenway apart with lyrics the crowd knew by heart.  After more than 50 years, the crooner still get's swooners every single time he bangs out a back-seat memory.
Early Wednesday morning, Annika Hudson caught a greyhound bus from Hoboken,New Jersey to see Joel's first post-covid show. She said "Everyone was so friendly, it felt like we were all buds even before the concert started. I was truly blown away by how flawless Billy was. I looked around to see everyone's faces lit-up so genuinely happy to be here, I made a ton of new friends. "
A band of all-stars backed-up the rock-and-roller with syncopations that were palpable.  The team scored points for their depth of talent. Down a man, due to a Covid infection, the band whaled with an energy that electrified the entire stadium. "And So it Goes" mellowed the decks before a Led Zeppelin riff cleared them like a 9th inning walk-off-grand-slam.
Molly Bloomingdale of Boston echoed one of the most commonly overheard comments of the night, "I'm in LOVE with the opera guy ~ Seriously, he needs my number!"  Mike DelGuidice is a clean-up hitter, he sings, plays guitar and unexpectedly adds a smoldering orgasmic quality to his rendition of 'Nessun Dorma'. As the aria reached it's climax, the wowed crowd was ligit ~ breathless. ( Can't make a joke, people lit up a smoke)
As the only chick in the tight band-of brothers Crystal Taliefero holds her own on stage.  Her resumé of studio work includes a list of who's-who of super stars, but she shines brightest when she's on Billy Joel's turf. The multi-talented performer sings, plays sax, bongos, harmonica, guitar and keyboard.  She doesn't steal the show from her boss,,, but this mega-watt whirl-of-a-girl is worth keeping an eye on when the tour adds dates.
After an all-band encore the crowd shuffled out of Fenway, "The Piano Man" had covered the bases like Boston's World Series Champs.  If you get the chance to steal a show ~take it, Billy Joel  "May Be Right  ~We May Be Crazy," but he just may be the lunatic we're looking for ~ in times like these. Billy Joel's major league talent plays like no one else's does.  He really is " The Natural" and "A BIG SHOT" worth seeing.
The prologue of The Natural is Billy Joel's pre-stage intro. (The 1984 film "The Natural" stars Robert Redford : Sound track written by Randy Newman.)
Molly Bloomingdale :Headline Photo Credit