Edward Hopper & Cape Ann: Illuminating an American Landscape opened in July at the Cape Ann Museum in Gloucester, Massachusetts. Since then devotees of the artistic icon, eager to see the exhibit, have flocked to the seaport like gulls exploring a fishing vessel.  Known for his ability to capture the breathtaking light and shadows of the American landscape, Hopper lived in the coastal community at a pivotal time in his life. In many ways the tidal pools of Gloucester were his primordial sea.
Cape Ann Museum's (CAM) presentation offers guests an immersive experience. On the crest of a hill saturated with history, 60 works, that feel like Gloucester shape galleries in a way subliminally suggestive of Hopper's architectural skill set. Angles and light in the casually elegant space reiterate Edward Hopper's fundamental talents and how he framed many of his most intriguing American stories. CAM distills the essence of Hopper then unexpectedly opens a window to a warming climate of modern interpretations.
Masterworks on-loan from private collections hang-out next to pieces from New York's Whitney Museum and work from the Provincetown Art Association and Museum. This mix-of-paint is a frothy display of genius.
As the 400th celebration of Gloucester's founding rolls across the zip-code, visitors to CAM can leave the curated collection with a map that traces Hopper's vision of billowing window awnings and hoisted sails that still flirt with summer breezes. A confluence of salt-air sensations sway with the poetic rhythm of a summer colony un-aware Hopper's rhyme would change in due time. Seeing the Master's compositions in context adds an atmospheric quality to this tour de force.
STP-News recently interviewed Elliot Bostwick Davis, Ph.D, the curator of this brilliant exhibit. We sat in CAM's courtyard beside a splashy fountain on cool granite blocks; a rock-solid signature of the chic-coastal idyll.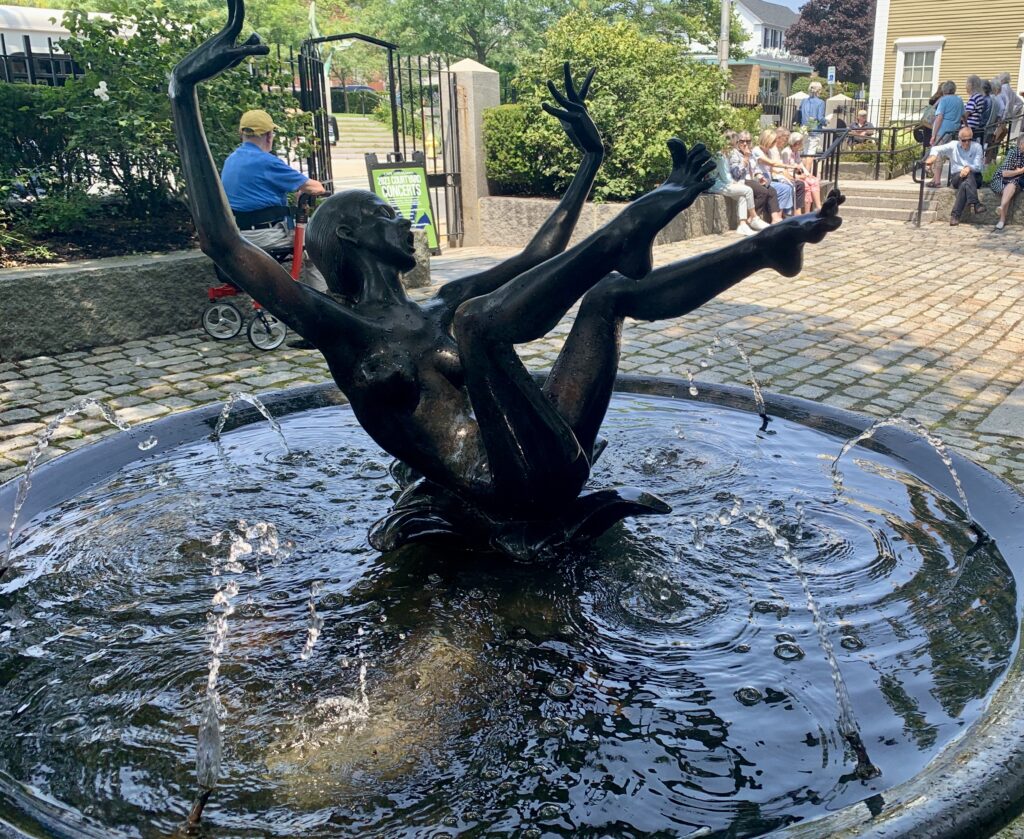 Dr.Davis fastened answers to each question of composition as easily as fixing a rope to a cleat. Her tone shifted abruptly however, when she was asked  how Josephine Nivison became Hopper's muse.  "She was never his MUSE !"
The scholar explained, after a summer romance in Gloucester, Jo Nivison joined Edward's life and became his wife in 1924. She was not only his model but a role model for success. A talented musician and artist in her own right, Jo encouraged Edward, who was short on sales, to reconsider working with watercolor. She marketed her works with his as an 'add-on' to stabilize finances, and she chose to tolerate Edward's mood swings, even when they bore a striking resemblance to Gloucester's dangerously rocky shoreline.
Metaphorically, Jo was a light in Edward's shadow.
The collection's inspired presentation is remarkable. Five of Edward Hopper's early oils anchor works in watercolor. A cove within the gallery adds a surprising emotional quality to the landscape. The juxtaposition of 'Jo-portraits' is a poignant aspect of the exhibit and not to be missed.
Edward Hopper's paintings often included Jo as a focal point, if not the plot, a sub-plot of his themes. As she aged Hopper portrayed his model-wife without charms. Brushstrokes articulated his dismissive opinion of her artistic abilities and domestic failings. Unfashioned hair, a shadowed jowl, and an averted gaze hurt the woman who curated his life.
In rebuttal, Jo's self-portrait is rose-colored. She presented herself at seventy in a negligeè, sexually desirable, a woman of agency with a confident gaze.
The contrast illuminates more than stylistic differences, it illustrates rip-currents in their rocky marriage. While the talent of Edward Hopper is undeniable, his history of metronomic histrionics needs to be part of a fuller understanding of his place on the American landscape.
Once you've brushed the sand from your beach-bottom there's still time to peer through Hopper's Cape Ann window and consider his talents in a new light.
Edward Hopper & Cape Ann: Illuminating an American Landscape remains at CAM through October 16th, 2023. Tickets, like the catalog written by Elliot Bostwick Davis, are available at: info@capeannmuseum.org