***Four months after STP-New's  review, Colin Jost's A VERY PUNCHABLE FACE wins an Audie Award…. coincidence? I don't think so! Congrats Colin Jost, this is your year!
If you only know Colin Jost as the co-host of Saturday Night Live's Weekend Update, or as the husband of Scarlett Johansson ~ you don't know Colin Jost. Taken at face value the comedian is a political satirist and the third happily-ever-after partner of the highest paid actress of our time.  However, he's also as they say in Boston, a 'wicked smart' dude.  "A Very Punchable Face" is a series of funny stories rooted in humility, tenacity and love.
Thoughtful throughout, there's more to this book and this guy than meets the eye.
Majoring in history with focuses in Russian and British literature, the 38 year old graduated cum laude from Harvard in 2004. As an extra curricular activity, Jost was the president of the Harvard Lampoon, an 'in-house comedy/parody magazine' founded in 1876. Pete Buttigieg was his college room mate, yes, that Pete Buttigieg.
Born seven years before SNL's debut Jost is the show's latest iteration of underground joke-masters to poke fun at pop-culture and toast musical tastemakers. In a sense, SNL is an evolving extension of Harvard's oldest gag-rag. The process of getting those gigs is the hook of the book but more importantly, each story's punch-line traces metaphorical steps towards self-actualization and personal maturation. Jost's ability to deliver emotional insights with humor is where 'Very Punchable Face' delivers a TKO.
The 309 page book reviews the improbable path from Staten Island to the 'Live from New York' stage. Filled with the stuff of growing up; sibling rivalry, two working parents, and several road trips that end with Colin inexplicably shitting his pants..  Jost is such a talented writer even the shittiest stuff is laugh out loud funny. But, the book also has enormous heart.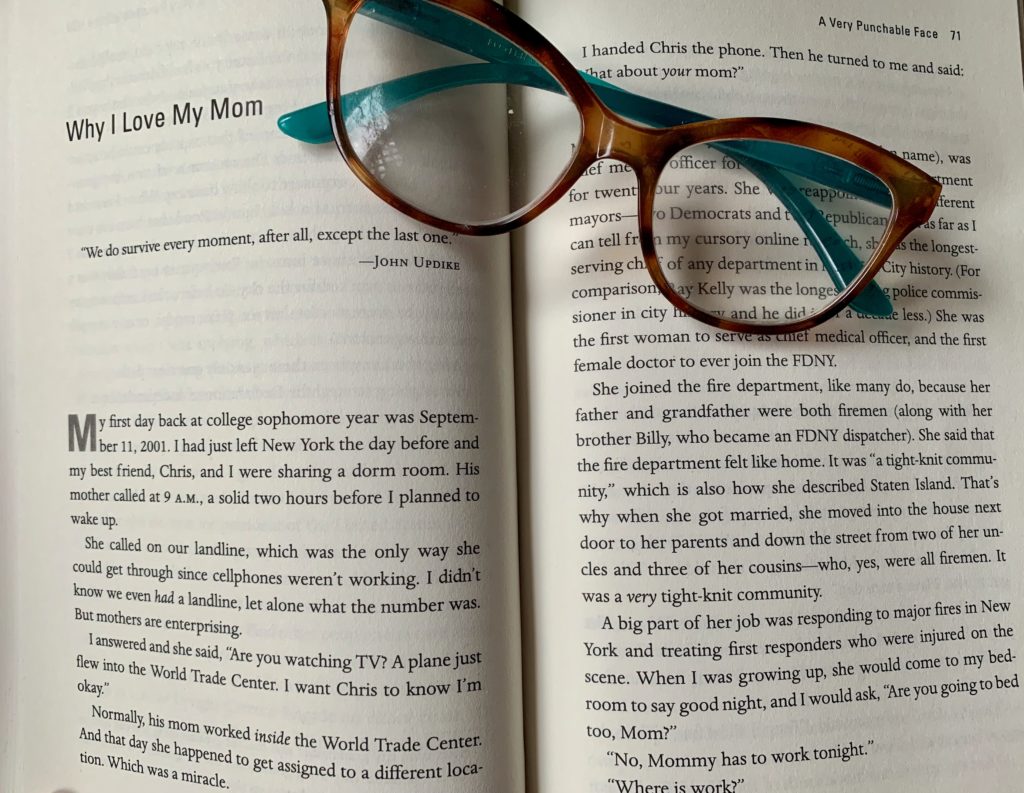 "Why I Love My Mom" is a chapter summarizing the Jost family ethos and reflects the other side of Colin's public face.  By paying tribute to his mom, Dr. Kerry Kelly, the comedian reveals the vulnerabilities and strengths of his tightly-knit family, the community they love and the Nation they serve. On 9/11 his mom was the Chief Medical Officer for the City of New York. She like many in her family felt "at home" working for the fire department.  When the Twin Towers were attacked she drove to Ground Zero ready to fight for the lives of her 'brothers and sisters.'
As debris covered Dr. Kelly she continued to treat victims. Jost says his mother's heroic actions are a few of the many reasons he loves her, but the list is long. To him she's a role model for working women who are never really absent from the lives of their children. He sees her as a loving wife, and devoted family member who wrangles grandparents, aunts, uncles and cousins into celebrating every little occasion. He's also proud of the testimony she gave before the U.S. Senate that lead to long-term care for First Responders and modernization of Fire Department protocols in preparation for future attacks.
He concludes the chapter by saying in late October of 2001 his mom drove from Staten Island to meet him on Harvard's campus. After working like a champ for more than a month he was surprised by her unannounced visit. When he asked why she was there, her answer was, " I need a hug". It's an unexpected got -'cha moment.
"A Very Punchable Face" written by the present heavy-weight title holder of Saturday night jokes is worth reading. It's not only filled with funny pop-culture Jost-isms it's filled with the loving-stuff life is made of. "She" considers it ~Christmas gift-worthy