Cruella was released on Disney+, as well as in theaters, over Memorial Day weekend. The post-covid, Disney "Have it Your Way' premier-style may become a hybrid red-carpet trend especially for those who celebrate summer by catching the latest block-busters.  It could also be another harbinger of how counter-cultures are increasingly trying to redefine our society.
Ticket sales and subscription fees may technically qualify Cruella as a block-buster, however, this film is a Tech-NO-Color outlier in Disney's wonderful world of fairy tales. The 'live-action' pathological pre-quil to "Hundred and One Dalmations"  is unlike the 1961 innocent family classic. Cruella is introduced with black and white fireworks. The distortion of Disney's iconic signature imagery is more than artistic fore-shadowing, it's the thesis of the semi-comedic crime-drama.
There's merit to updating society's presentation of women. For too long children have been indoctrinated in a black or white version of life. Historically, Disney portrayed woman as monolithic figures. Female role models ranged from witches eating little children to damsels waiting for their prince to save them. There was little in-between. If reexamination of the range of women's capabilities was the Studio's goal, they missed an opportunity to redeem and reframe Cruella in colorfully fresh, inspirationally feminist ways.
Set in 1970's London the 134 minute film follows the life of Estella Miller. Music of the decade accentuates the momentum of her transformation from a creative little girl into a woman with a custom-tailored cruel streak.  Brotherly cohorts train their newly orphaned companion on how-to-survive while Estella increasingly drapes their street-grifting shenanigans in darkness. The young woman's alter-ego, Cruella, emerges as a talented but toxic dressmaker; a SUPER, super-model of damaged designs.
Estella's backstory sets the foundation of Cruella's cruelties. She repays sympathy with cynicism, kindness with corruption. In this fairytale, she bears no consequence for her rampage of revenge. The moral of Cruella, psycho~logically torches the 'and they lived happily ever after' puppy-tale of 'One Hundred and One Dalmations.'   This so called blockbuster offers nothing new to the conversation of redefining successful female role models. It reinforces a cliché.
In the black and white world of good versus evil, the patterns of Cruella de Vil, are easy to read. She's simply the D'evil wearing Prada, Chanel and Alexander McQueen. Couture is her counter-culture, those threads alone are this film's only redeeming asset. The clothes are stunning but the message of 'bitch-babes blaze to success' is as old as ashes.
Cruella, like her mentor Baroness von Hellman, played by Emma Thompson, are stiletto'd icons of self-possessed career focused chicks.  They have no family, no real friends, no elevating ethos.  They are malevolent woman crafted into a familiar fabric of darkness.
The film ends by stiching a dogged detail to a potentially sinister sequel.  The question is why?
In an attempt to modernize the animated classic, Disney delivered a one dimensional cartoon-ish drama. They established the reasons for Estella's anger and pardon her evolution from grief to grievance. The character's plot-line would be a better fit in a dark adult mystery series rather than the last colorful bastion of childhood innocence.
If Cruella is a Disney trend, the Studio has made a sorry statement. Family movies will become another example of our culture's insidious corruption.
The visuals, of the PG-13 film, include inspired, full-on, fashion fabulousness in a campy, vampy style.  If you're into mad-glad rags this film's for you, but if you're looking for old school family entertainment  'Wonderful World of Disney' originals may be a more magical way to start a colorful, wholesome summer.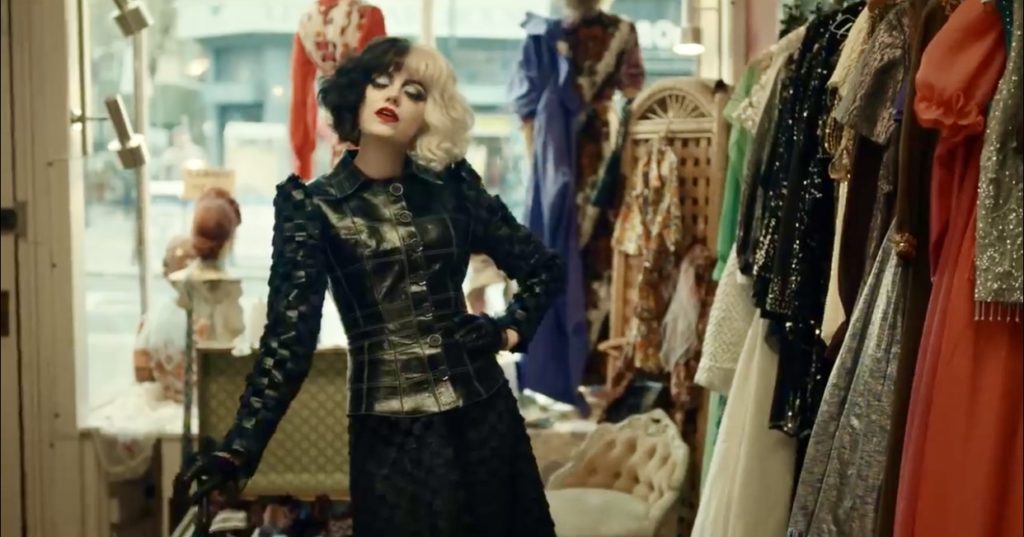 All photo credits : Disney