By this time next week the mid-term elections will be over. Pundits from both sides predict a red wave. The question for savvy Democrats is how to modify the hemorrhage before it's the morning after.
Dr. Jill Biden, ever the school teacher, always focused and planning for success is a study in tenacity. No matter the team you're on, her dogged-determination is a character trait worth emulating.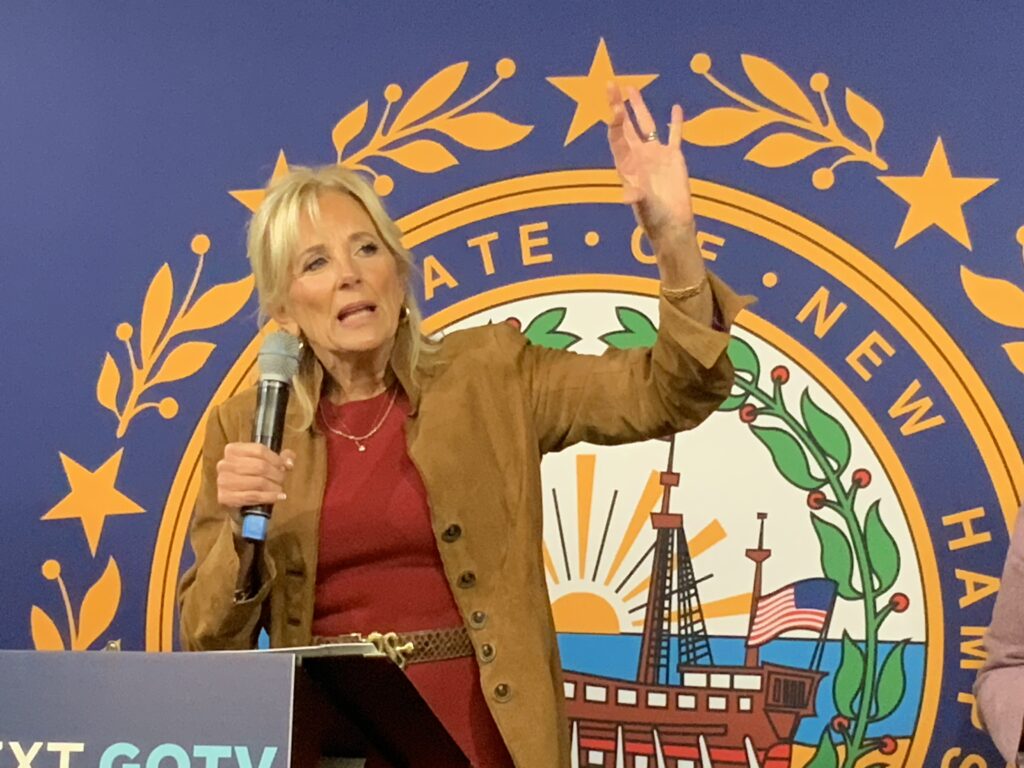 Last Saturday, the First Lady flew into Manchester, New Hampshire in support of incumbent Senator Maggie Hassan's campaign.
Despite poll numbers the First Lady exuded confidence as she took to the stage set-up for Hassan's rally inside Teamster's Local 633 Union Hall. Waving to the crowd, cheering a guy wearing a Philly's hat, Dr. Biden endorsed the hard work of Senator Hassan and her commitment to the welfare of all people in New Hampshire. She thanked members of the National Teachers Union for joining the campaign and challenged them to keep up their commitment to working hard on behalf of their students. Dr. Biden also praised Senator Hassan's efforts on Veterans affairs and her focus on the escalating opioid crisis. FLOTUS was a cheerleader for the team.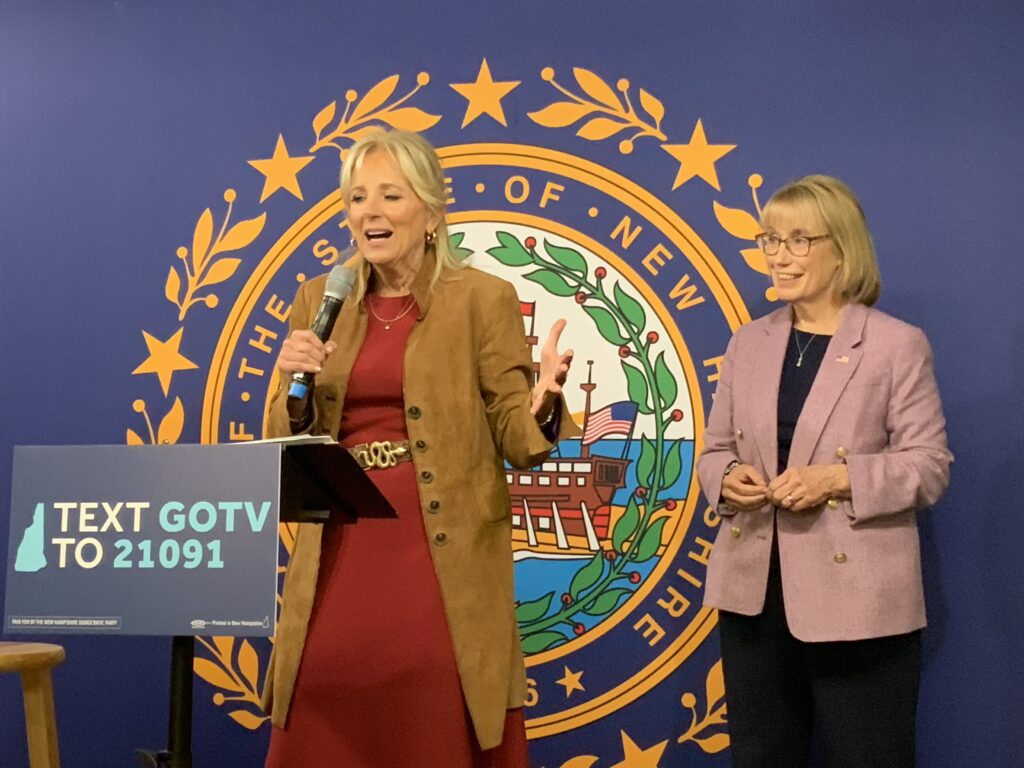 Initially, it was easy for Democrats to dismiss the candidacy of Hassan's political opponent, Don Bolduc. The retired US Army Brigadier General was less well known than the Senator, who had also served New Hampshire as Governor from 2013-2017. The identity gap left space to defined Bolduc as militant man intent on dismissing women.  But time has revealed there's more to the man than brass. Bolduc has waged a campaign testing battle-hardy Hassan. Over the past few weeks Hassan's once strong-hold on the Granite State has begun to crumble. The polls have Bolduc and Hassan in a dead-heat.
The First Ladies' scripted speech was short but powerful for it's recitation of how-to achieve success with a smile and polished manners. "This is an enormous race, but it comes down to those small moments. It starts with all of us digging a little deeper, working a little harder and believing that together we can reelect Senator Maggie Hassan."
It was clear Dr. Biden was repeating a well woven text for success. Ever the teacher, her encouragement was aimed squarely at the mid-term election but it could just as easily have been applied to any challenge. If General Bolduc does win the senatorial race next week, Dr. Biden and Senator Hassan can face the morning after knowing they were tenacious even to the last hour.
"Success in life comes down to small moments. Dig a little deeper, work a little harder, and believe!"