Does the opulence of the Gilded Age leave you ga-ga? Are you eager to dig into Newport's Eden-esque gardens?  If so, The Newport Flower Show is your opportunity to stroll through a gilded-gate of history and satisfy your curiosities in grand-style!
Tickets for the perennially-popular Newport Flower Show are on sale now. The venue of this annual, multi-petaled spectacular, is the Rosecliff Mansion. Festivities will be held June 17-19.
Theresa Fair Oelrich, a silver heiress from Nevada, commissioned Rosecliff. Designed by legendary architect Stanford White, the stately, Summer Cottage, was completed in 1902.  Rosecliff captures the essence of the 'Grand Trianon', otherwise known as the garden retreat of French Kings at Versailles. Located on Newport's fabled Bellevue Ave. the purpose of this French-Baroque styled home was to entertain family and summer friends~ memorably.  Mrs. Oelrich was considered to be one of 'The' hostesses of the times. The business of defining rules of polite-society was her business. " Bal Blanc", a white and silver-toned party celebrating the 1904 Astor Cup Races, and a fairy-tale themed dinner party, featuring the magical talents of Harry Houdini, were two examples of the mistress of Rosecliff's  social largesse.
Wow~ing guests is the intension of invited horticultural and botanical artists interpreting this year's Flower Show's theme, "Eden … A Personal Paradise "  Hundreds of memorable creations will be displayed around the grounds of  Rosecliff as well as inside the  expansive ballroom and salon.
Dream-worthy exhibits will be featured in the Courtyard of Love, the oceanside terrace and lawn.
Trudy Coxe, CEO and Executive Director of the Preservation Society of Newport County, (which has hosted the show since 1996) said "The Newport Flower Show is growing back, step by step from the COVID pandemic….It will be fun to see how the 'Eden' theme comes to life in the hands of the very creative horticulturists and botanical artists who enter the show."
Taking a different spin on Eden. look for imaginative designs of dried plant materials representing fantasy necklaces, a mini cover-up and serpents ready to strike to be showcased near fresh floral designs. Vendors featuring garden-themed items will also sprout-up around the manse.
Newport's majestic coastal vista is dramatic. It's sea-air whispers with the passions of it's former residents. Until HBO's series The Gilded Age returns with a second season "She" recommends catching The Newport's Flower Show at Rosecliff , and touring the neighborhood that really is from a Gilded page  in American history.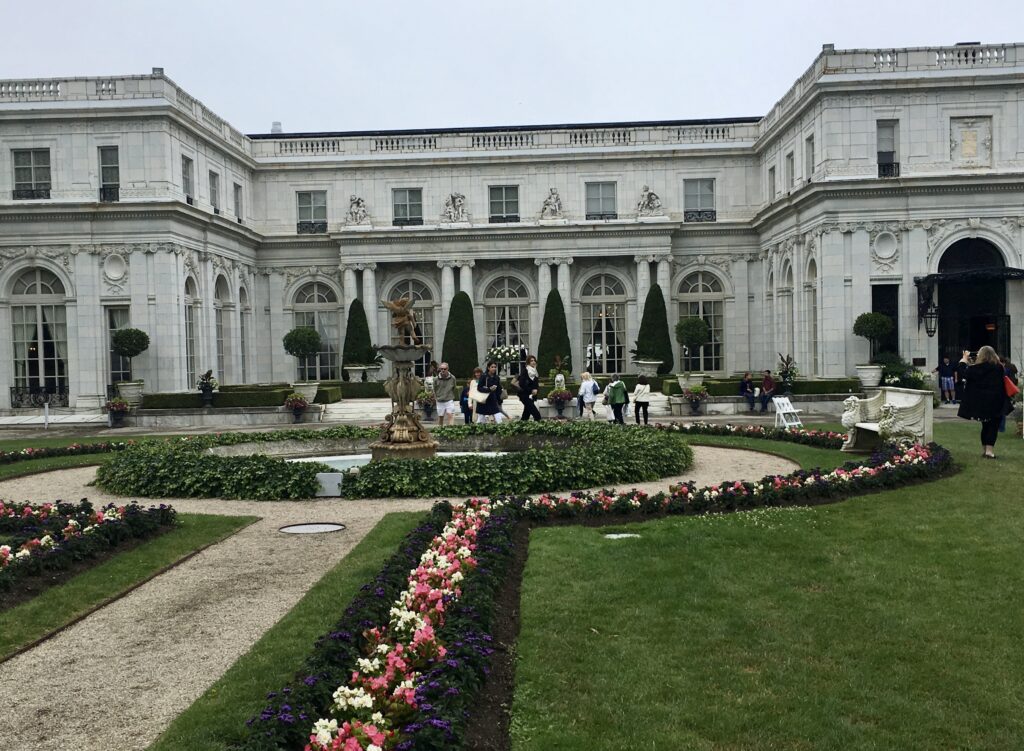 For details and ticket sales search  : www.The Newport Flower Show or www. Newport Mansions or www. The Preservation Society of Newport County