Fenway Park is hosting a night of family Halloween fun Friday, October 27th from 4-6:30 PM.
Kids are encouraged to bring their families to the Gate B concourse for free Halloween activities with 'Wally the Green Monster,' balloon artists, face painters, a stilt walker and a "Big-League Brain."  Everyone is welcome to trick-or-treat around the warning track. Costumes are encouraged!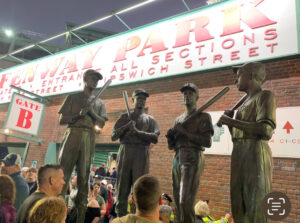 After trick-or-treating, a paid screening of Hocus Pocus will be shown in Center Field at 7.PM.
Tickets for the screening of this Disney Classic are $10.00 for adults and $5.00 for kids 12 and under. Children 2 and under are fee. Movie tickets are available for purchase at REDSOX.COM/MOVIENIGHT
To ensure the best viewing on the 40 by 100-foot video board, fans in attendance will be seated in the lower seating bowl and down the first base line. Concessions will be available.
 Hocus Pocus stars Bette Midler, Sarah Jessica Parker and Kathy Najimy as three 17th-century witches resurrected on Halloween in modern-day Salem by an unsuspecting boy who must figure out how to get them back in the ground. This is the 30th anniversary of the film's original release
HOCUS POCUS  PHOTO CREDIT: DISNEY+ MEDIA