If the question on 'Jeopardy' is "What does Newport's Gilded Age have in common with Jackie Kennedy? " The answer is "What is the Newport Preservation Society! "
As a young girl Jacquline Bouvier summered at Hammersmith Farm, her family's ocean-front estate in Newport, Rhode Island. She loved the vibe of the seaside setting so much she chose it as the venue for her September,1953 wedding to Massachusetts Senator John F. Kennedy.
The picturesque site was originally sold to Joanna Auchincloss in 1887. Two years later, her husband, John, the great-grandfather of Jackie's step-father, Hugh D. Auchincloss, developed the land that served as a family retreat until it was sold in 1977. Prior to the sale, the once gracious estate had been neglected for decades and was falling apart at the seams.
Since the sale, a series of new owners have painstakingly restored Hammersmith. Today, the 48 acre property with a 28 room Victorian styled mansion is once again an elegant private home. It's often referred to, on excursion cruises through Narragansett Bay, as the "Kennedy Summer White House" .
Had it not been for the initiative of a few women, many of the architectural wonders of Newport's legendary past, like Hammersmith Farm, may have been lost to a seismic shift in social values. Landmarks of our cultural roots were rotting across Newport's shorelines.
One of the visionaries of the port's preservation was Katherine Urquhart Warren. Born in California in 1897 and educated in New York, Warren maintained a life-long interest in preserving American architecture. It had been the custom of her family to summer in Newport. That tradition may have been a serendipitous link in a chain of historic events that saved significant parts of the Gilded Age's complex history.
In 1919, Katherine Urquhart met and married George Warren, a  prominent member of the social Old Guard who worked as a stock broker in NYC and also frequented Newport. The story of how their energies came together to save the seaport is revealed in "A Passion for Preservation " written by Alyssa Lozupone a graduate of Salve Regina and Columbia Universities,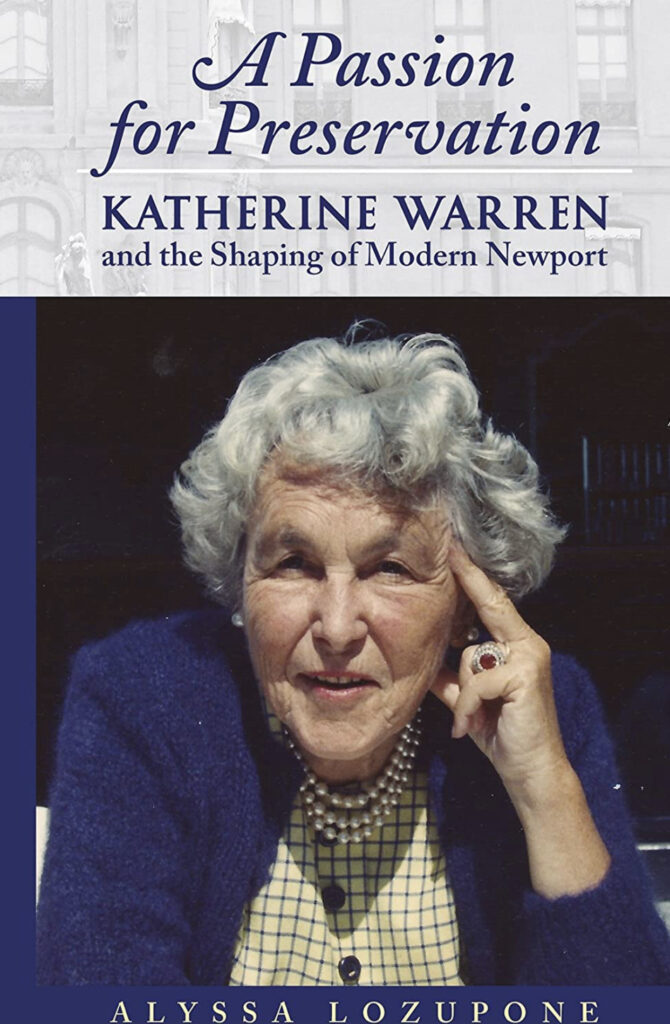 The easy and fascinating read chronicles how the Warrens shaped Newport by tracing the couple's complex helix of soul-deep appreciation of historical artifacts with their love for modern expressionism. Although Katherine Urquhart married into an established main-line family, she was not a main-line kinda gal. She was as socially unorthodox as the art she collected and the jazz she cultivated to fill Newport's air-waves. Approaching causes with the unexpected force of a Spring gale the Warren's enthusiasm for protecting America's legacies was contagious.
Her off-the-beaten-path address in Newport and her avant-garde choice of garden designers sparked curiosity in the summer enclave. Neighbors willingly trekked to her backyard steps to enjoy impromptu, bo-ho parties. Katherine was a social magnet. Her personae shaped her adopted hometown as well as advisory boards of national institutions.  In another time, fearless Katherine Warren could have been known as a pop-culture 'social influencer' worthy of an Andy Cohen reality series.
With a group of Newport residents Katherine and her husband co-founded 'The Preservation Society of Newport' in 1945.Their mission was to protect the distinct architectural heritage of Newport County.  Had it not been for their efforts, early American landmarks were destined to be replaced by high-rises and mini-malls. The kinetic group left no stone unturned when fighting to preserve history for future generations.
In March of this year, a member of the Newport Preservation Society's Museum Affairs Department, Archivist Genna Duplisea, came across a letter of historic importance that had been misfiled long ago. The letter written by Jackie Kennedy was in response to a request from Mrs. Warren to join the Preservation Society Committee.
Dated March 12th.the presumption is the note was written by Mrs. Kennedy in the late 1950's when her husband was a Senator. She wrote  " I think it's so wonderful what you do for the Preservation Society. Not that it matters – but that is what I care about more than anything-"
Last month, Trudy Coxe, CEO and executive director of the Preservation Society of Newport County, wrote  "Apparently, she had been invited to serve on a committee and she was apologizing for being a little late in responding and wanted Mrs. Warren to know she would be delighted"
The work of Katherine Warren, Former First Lady Jackie Kennedy, and contemporaries of theirs, like Doris Duke, continues today.  Their combined efforts are evident in cities like Newport that continue to celebrate the vibrant history of America with new generations of preservationists.
Katherine Urquhart Warren Died April 18,1976. A small park near Marble House is dedicated to her memory.  Next time you find yourself in the city that was saved by her vision, hard work and philanthropic spirit, you can thank her in person for shouldering the noble cause of preserving an essential part of the Gilded Age.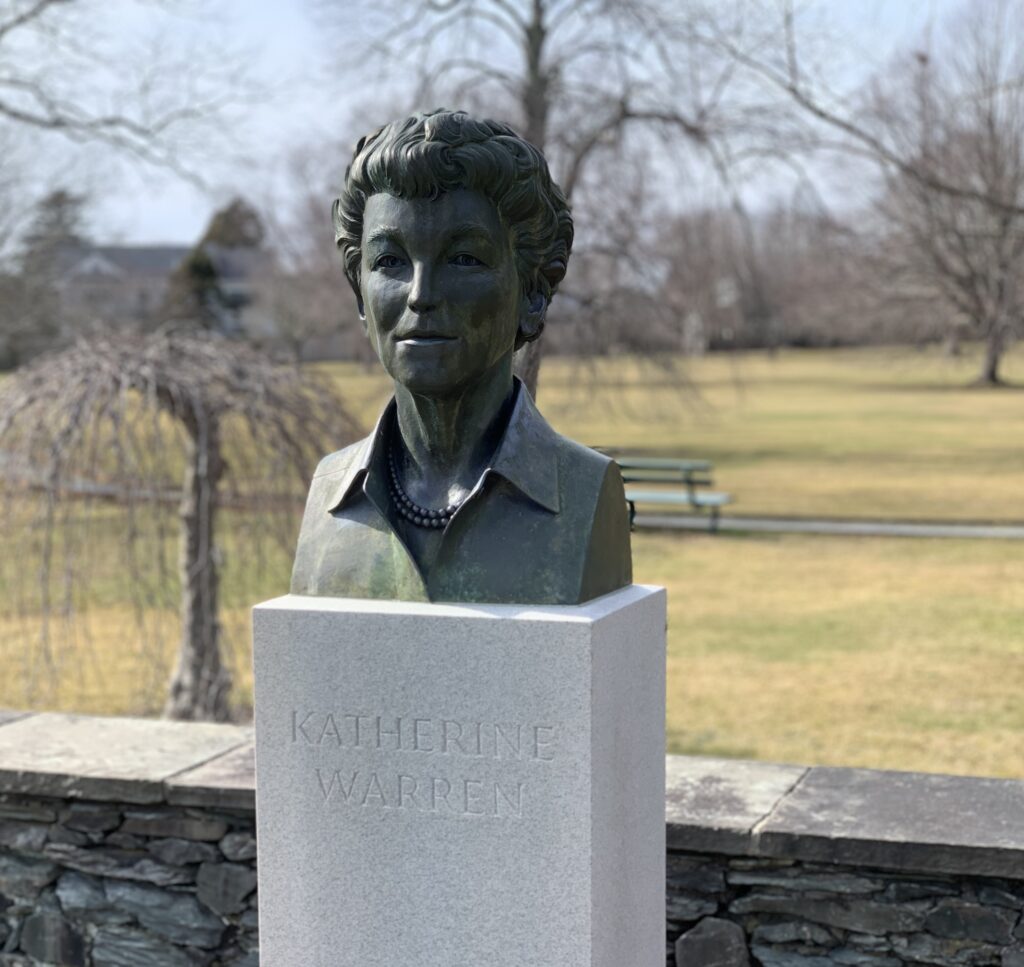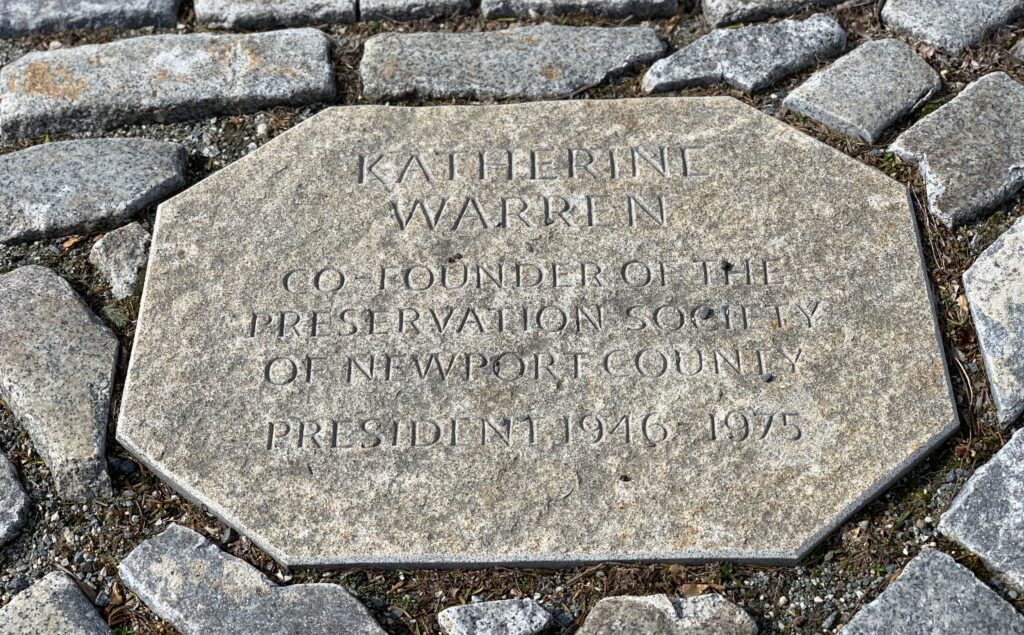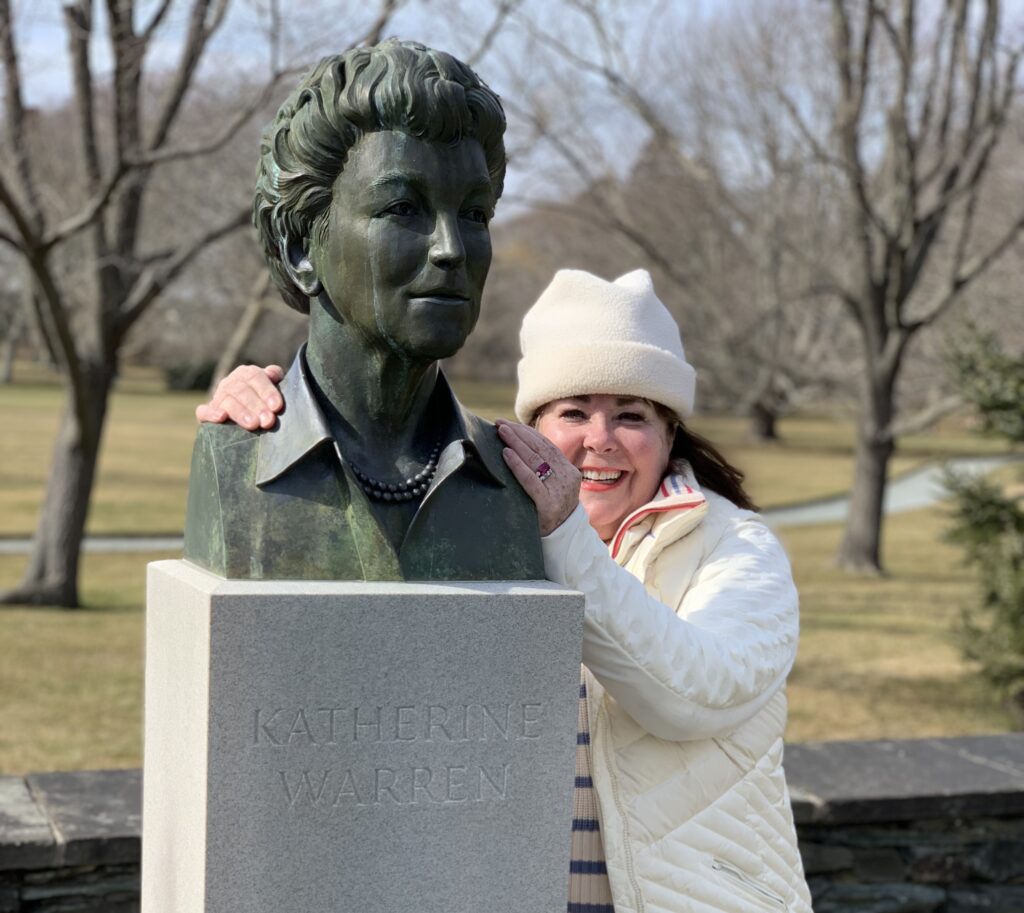 Planning a visit:
The Breakers, Marble House, and The Elms, are open 10-4
Not to be Missed : The Newport Flower Show will be at the Marble House June 23- 25
for more details : info@newportmansions.org