By converting galleries into symbolic ports-of-call The Peabody Essex Museum has earned a reputation for expressing Maritime Culture in exotic waves of thought. Their latest exhibition, "In American Waters" surrounds visitors with art splashed with pride, profits and a frothy mix of anti-paleoconservative sentiment.
Impressive Colonial and Euro-centric style paintings anchor this exhibit to American ambitions and accomplishments. The galleries and companion catalog, articulate stories of natural beauty and entrepreneurialism, they also effectively frame those dialogues with geopolitical consequence.  This port-of-call is artful, it's also as psychologically transformative as a rising tide.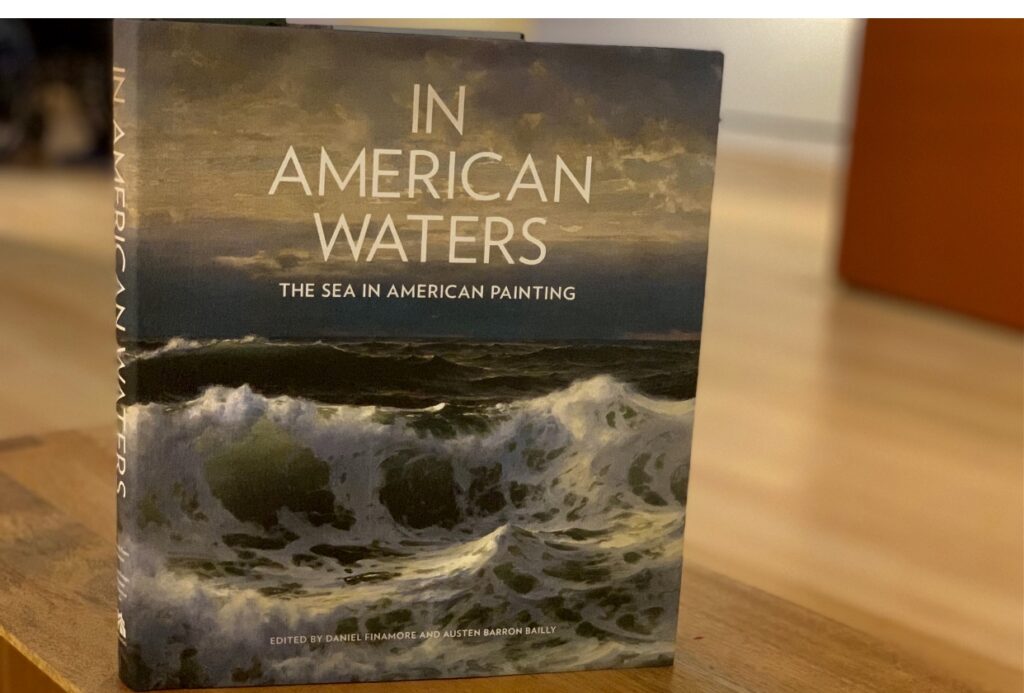 Some paintings are the forerunning equivalent of Facebook profile pictures, designed to capture a Captain's star-status and advertise the impressive vessel under his commanded.
The galleries are also a manifest of commerce that included slave trading, rum-running, social-cruising and war. The brush-stroked snapshots of sailors and cargo add a moral compass to the cultural attitudes and latitudes of life at sea.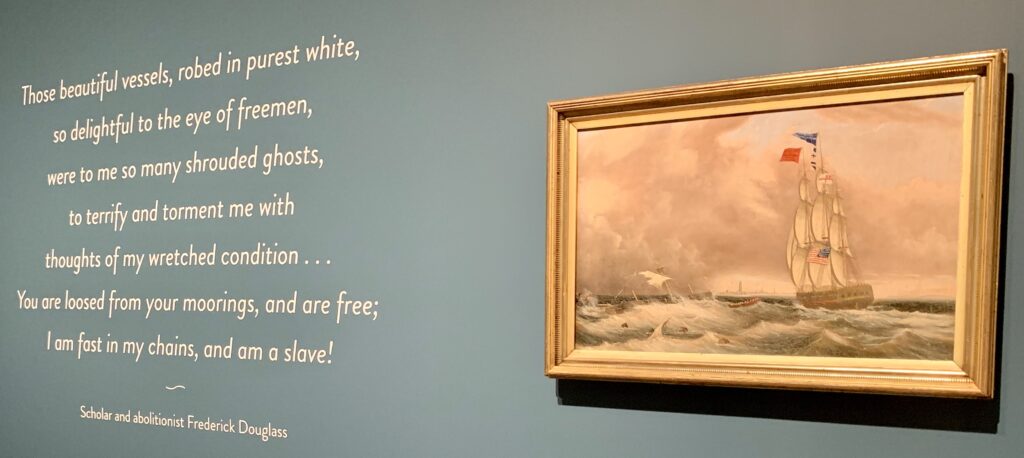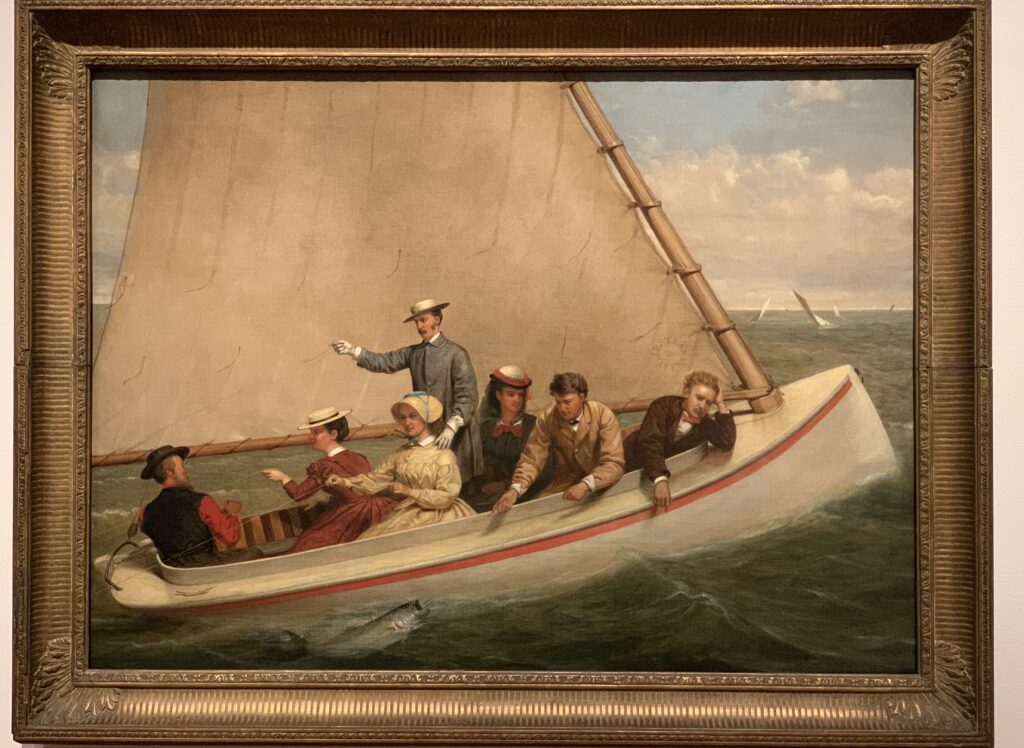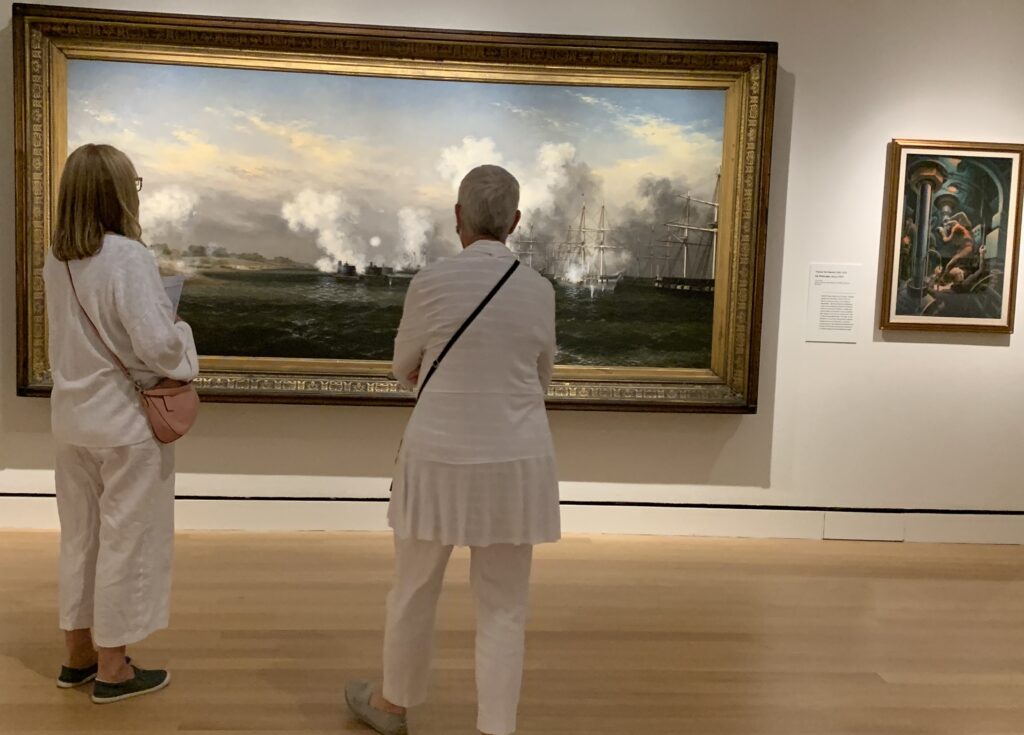 Curated by Austen Barron Bailly, of the Crystal Bridges Museum of Art in Bentonville, Arkansas, the exhibition shares the lore of the sea with unexpected images painted by contemporary women lured to the sea.  Georgia O'Keeffe's signature avant-garde fluidity, Kay WalkingStick's metaphorical expression of unity and a simplified graphic image by Amy Sherald add fresh air to the male heirs of history telling.
These female artists broaden conversations; translating nautical codes into a a more universal language.  Their collected energies echo sentiments of those previously silenced.  Modern in style, they are as representational of dynastic maritime provenance as any conventional commentary on life at sea.
'The 'Mother of Modernism', interpreted coastal atmospherics on the horizon of Maine as a radical abstract in 'Wave, Night,'  capturing the nexus between sky, sea and shore on York Beach.
Kay WalkingStick, a member of Cherokee Nation, super-imposes patterns of Indigenous Peoples onto her paintings. Much like O'Keeffe, the focus in this work is on the sky, sea and shore. However, the blood-red basket-weave pattern is a metaphorical reference to Tribal Nations and their ancestral connection to the environment.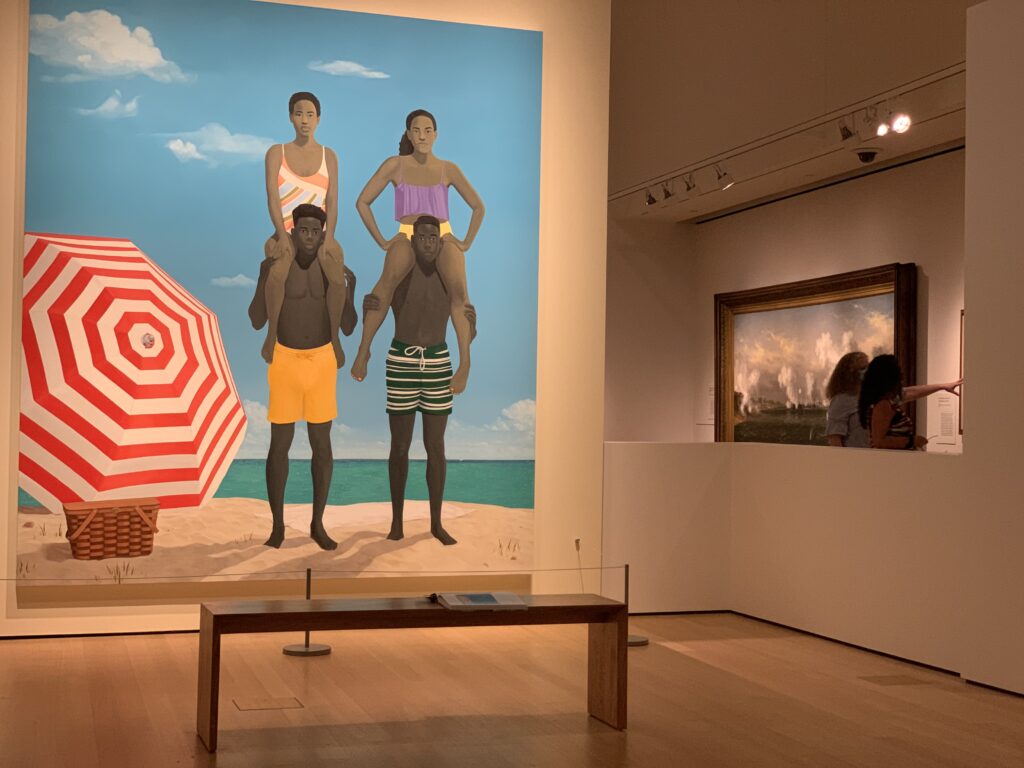 " Precious Jewels by the Sea" is Amy Sherald's playful addition to this exhibit, but, it also serves as ballast. It's colors and monumental scale are simultaneously engaging and a weighty commentary on the once accepted tradition of racially segregating beaches. The portraitist of former First Lady Michelle Obama stylistically simplifies her subjects.  By featuring timeless faces on a sugar-sandy beach and in modern bathing suits, Sherald figuratively footnotes history and landmarks societal progress.
Air and sea-scaped galleries of the Peabody Essex Museum effectively add modern-day stories to complicated dialogues that crest like waves "In American Waters".  An ideal day trip for all ages, the PEM is located just a block from Salem's historic harbor. It's open Thursday-Sunday, 10am-5pm and holiday Mondays.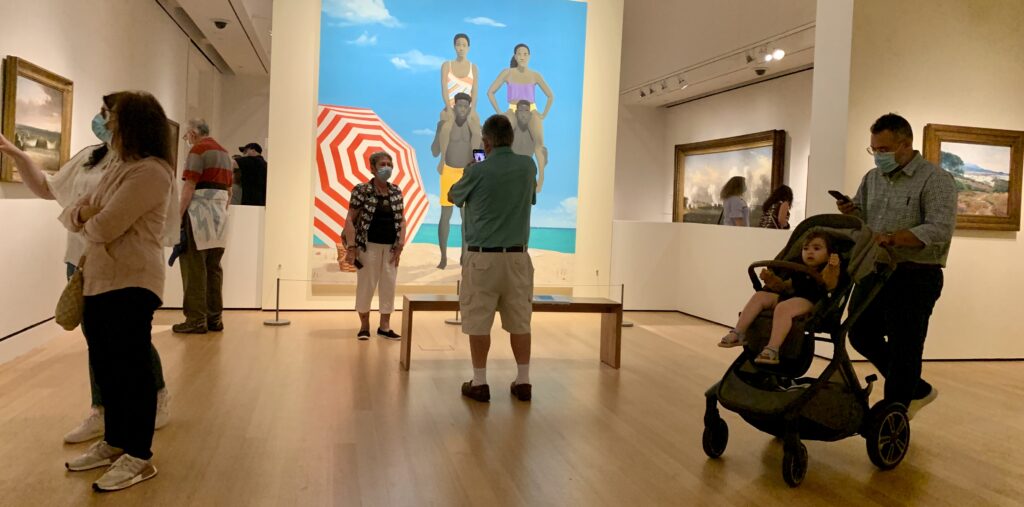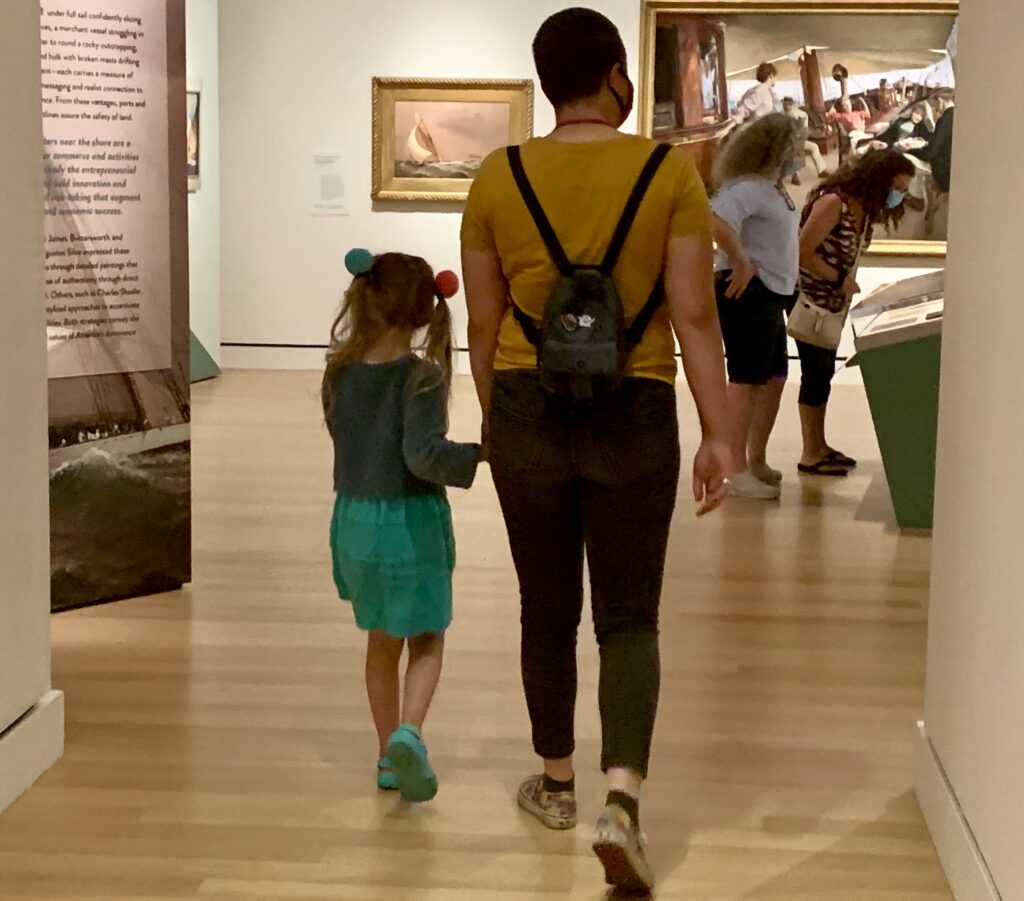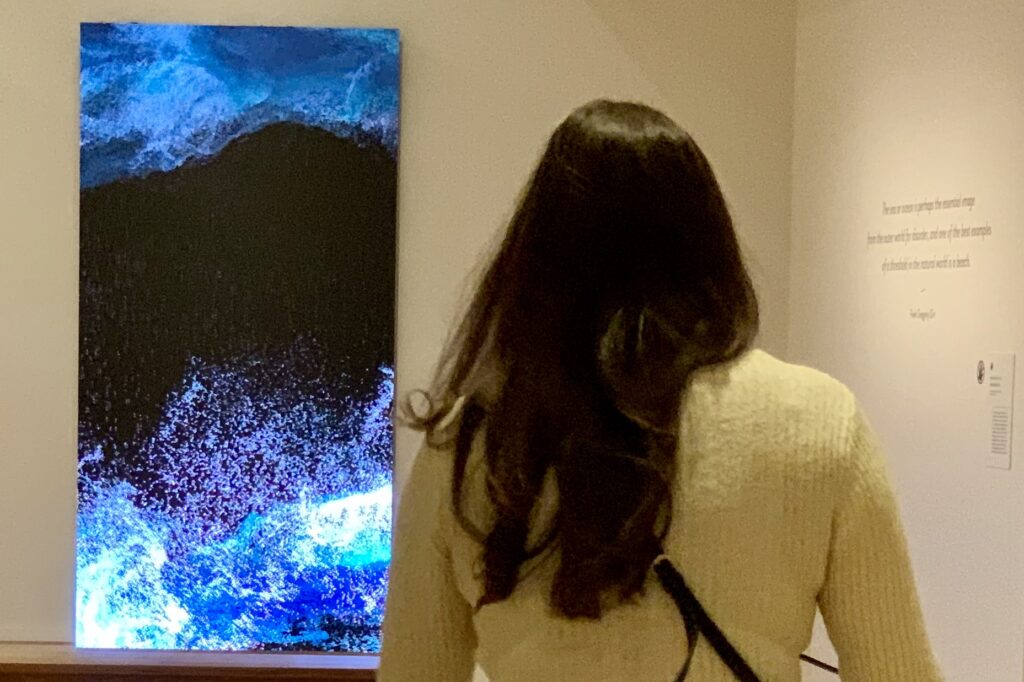 Catch the waves, Now-October 3,2021 and share your thoughts!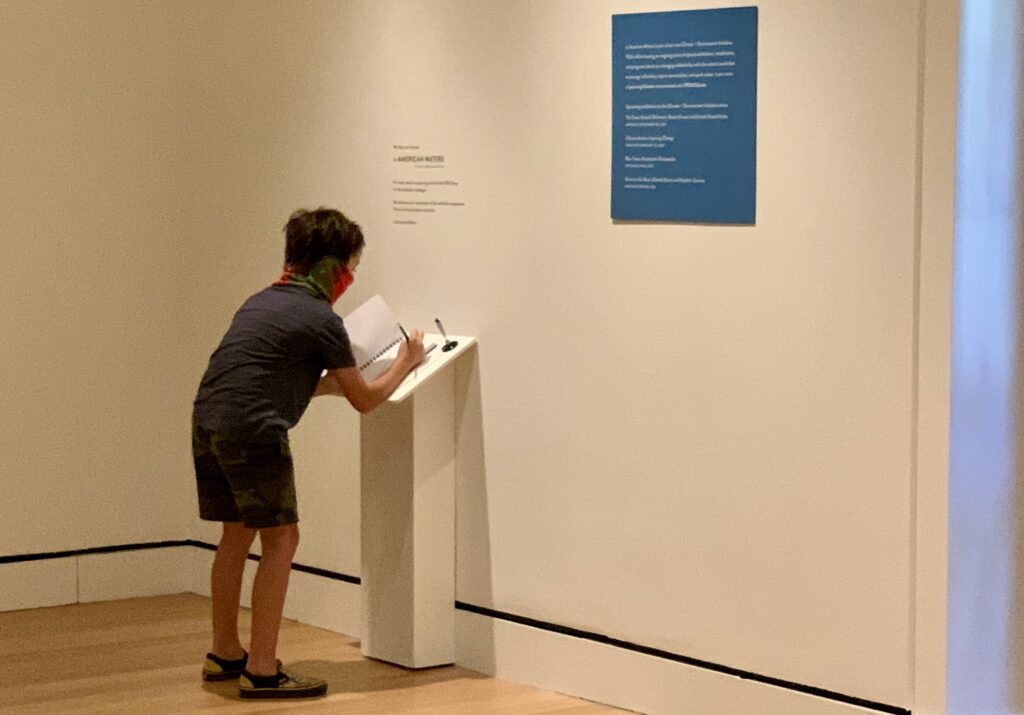 All visitors must purchase advanced general admission tickets at pem.org/tickets