Printed in Italy and distributed by Princeton University Press 'Isabella Stewart Gardner: A Life,' is a hot-off-the-press literary release worth your attention. It updates our cache of info on ISG's remarkable and on-going contributions to our culture.
In this thought-filled book, Mrs.Jack Gardner defies convention and personifies the notion of  'a woman ahead of her times.' Shown to be more than a woman on a gender dismissive mission, Isabella is a restless soul filled with idiosyncrasies. She is revealed to be as much a flirty coquette as a fiscally cunning investor. 'ISG: A Life'  is an insightful, fresh, compassionate read filled with nuance.
Isabella Stewart was raised in a New York family of means. As she entered adult life in Boston Mrs Gardner's fortunes and misfortunes multiplied exponentially.
Authors, Nathaniel Silver, Division Head at the Isabella Stewart Gardner Museum, and Diana Seave Greenwald, Assistant Curator at the ISBM, thumb-sketch the timeline of this trail-blazer's life, the sources of her money and the tragedies that ultimately shaped the internationally known Grande Dame's passion for collecting. This book will appeal to anyone interested in Isabella's life but more than that, the easy-reader contextualizes burdensome social expectations of polite society in the Gilded Age.
Contradictions of fate define the 155 pages of this fascination book.  Devotees aware of Isabella's legendary persona will appreciate the scholarship included in this luxurious publication. It's glossy, heavy-weight pages will appeal to the eye and the hand in a format as rich as the Mistress of Fenway Court would expect. Pictures of Isabella and her treasures are curated to capture the arc of her life.  Each psychologically-dense image refracts a dimension of her privileges, passions, and pains.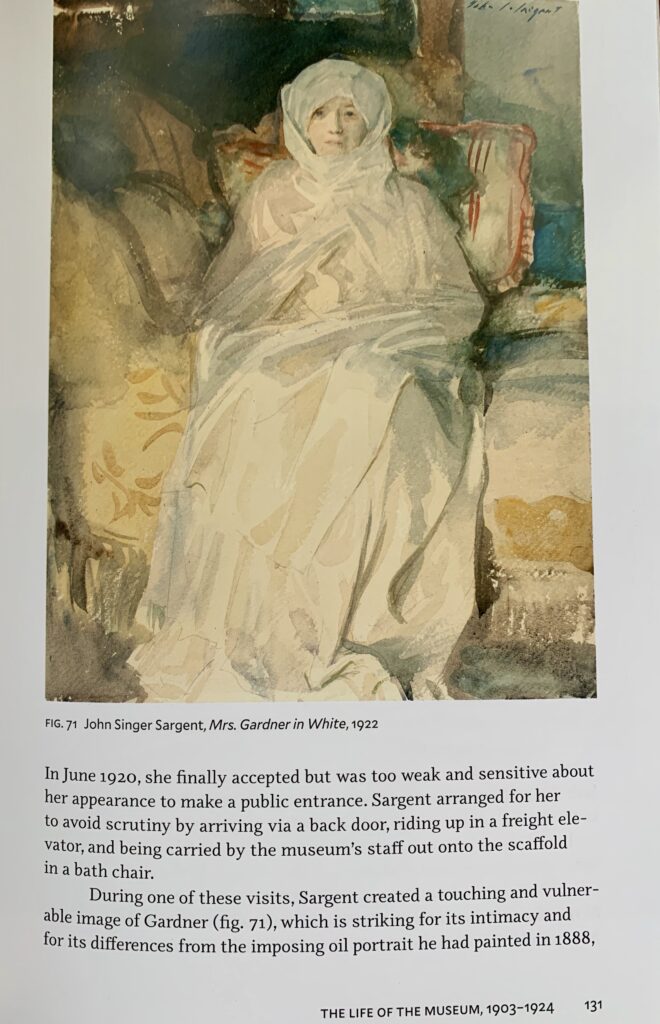 The social circle of one of Boston's most controversial Brahmins was as diverse as her life of religious devotion. Although she maintained a private chapel in her Museum-home known as Fenway Court, she was a generous benefactor of Boston's High Anglican Church. Equally fascinated by Buddhism, Isabella was also unexpectedly known to dress in sack-cloth and polish brass fittings in local Catholic churches at Lent. By intention, her philanthropic ways were gifts to humanity rather than vanity.
Isabella Stewart Gardner: A Life; is a Christmas colored jewel worthy of gifting. Wrapped with a promise to visit the name-sake's must-see museum, it will fill a readers heart with warmth, wonder and inspiration.
Isabella's motto was "C'est Mon Plaisir" ~ ( It's My Pleasure) This new book is likely to become one of yours.