The heirs of Marble House's many memories swirled in the sea-air of Newport when The Preservation Society invited Lady Fiona Carnarvon to speak to an intimate gathering organized for the media.  This ocean-front 'Summer Cottage', designed by architect Richard Morris Hunt in the late 1800's for Mr.and Mrs. William K.Vanderbilt, is the caretaker of the names, the legends and the scandals synonymous with spectacular American saga.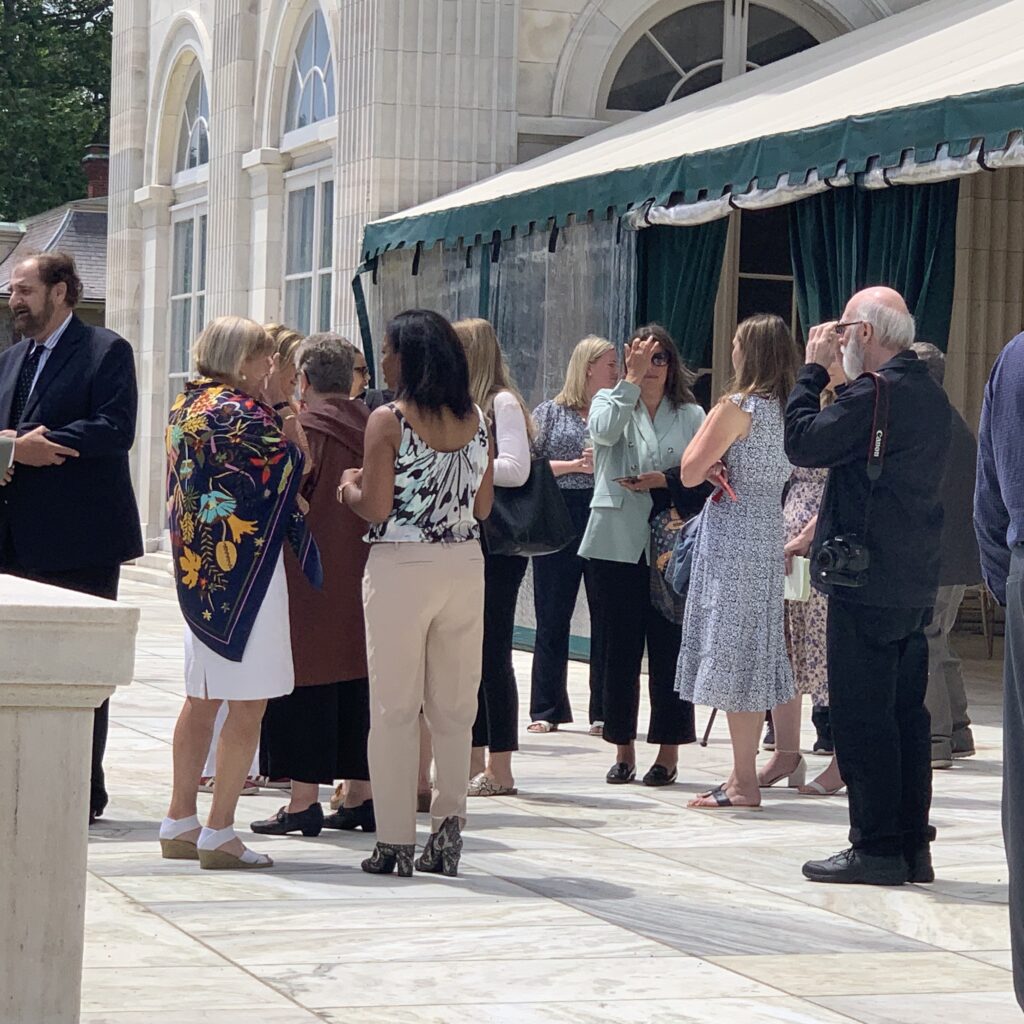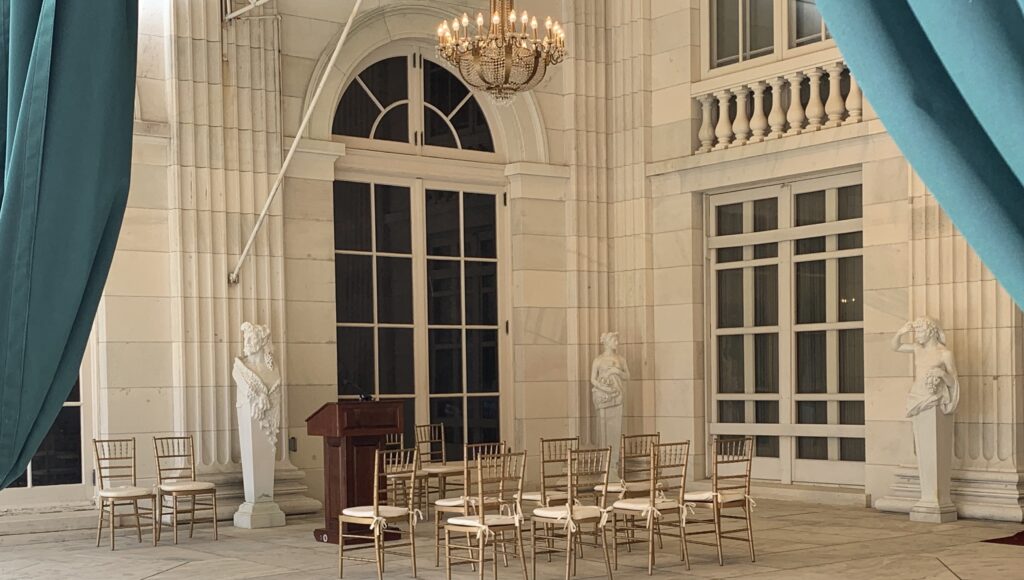 As introduced by Preservation Society CEO, Trudy Coxe, Lady Carnarvon's resume is long, impressive and surprisingly eclectic.  The Lady's got game!
Ms.Coxe began listing The Lady's accomplishments, wholly dependent upon the dexterity of a modern-day Cinderella. Fiona earned a degree at St. Andrews before taking a position as a Chartered Accountant with what is now Pricewaterhouse Coopers. She married George Herbert, 8th Earl of Carnarvon in 1999 and became, after the death of the 7th Earl in 2001, the titled caretaker of Highclere Castle.  Since that time Lady Carnarvon has worn many tiaras. She's a farmer, sheep herder, author of books filled with family history, gardening tips, recipes, holiday entertaining ideas and an ancestral connection to King Tutankhamun ,as well as a tour-director of Highclear, better known as Downton Abby, and conjurer of Spirits.  Caring for the 1200 year old Castle's 300 rooms and 6000 acres has required the dynastic family to become creative with revenue streams. Lady Carnarvon isn't afraid to roll-up her sleeves to get things done.
When Lord Julian Fellowes suggested to his friends, the Carnarvon's, that Highclere may be an interesting setting for his production of a new series, their Castle-home was transformed into Downton Abby. The newly-monikered Abby grew in popularity, and is as much a star of the period-piece as are the show's main characters. Corporate events, weddings and tours have become an on-going industry at Highclere.
After the Downton series ended with a following of 11 million viewers and 2 blockbuster movies, Julian Fellowes was approached by Steven Feinberg, Executive Director of the Rhode Island Film and Television Office with an idea to Americanize the stories of pedigrees and privileges.  Feinberg's charismatic ways and the breathtaking scenery of Newport sold the concept to Fellowes, who last January introduced audiences to HBO's series, The Gilded Age. Mr. Feinberg's review of how the synergistic productions came together laid a MarbleHouse-sized foundation for Lady Carnarvon's reflections on what it's like living in a landmark that sparked a 'cottage' industry.   Re-visiting the names, the legends and the scandals that occupied these historic homes is a means of preserving a culture that had neared it's twilight.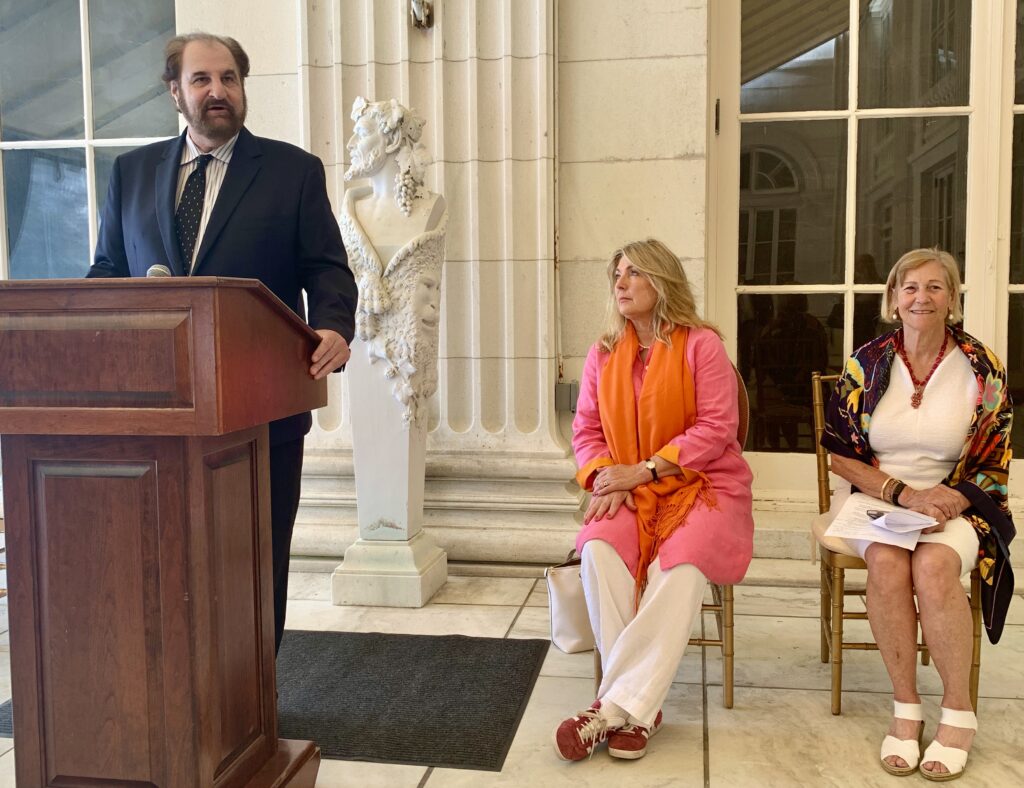 What's striking about Lady Carnarvon is her casual demeanor, although titled her persona is anything but entitled. Much like Vanderbilt's industrious ways, the Lady is a force.  With eyes as crisp and blue as Newport's rolling tide she seduced the gathered voyeurs to peek through manor-sized windows and catch a glimpse of gilded reality by adding facts to 'fairytales'.  Lady Carnarvon's British accent, phrasing and easy laugh were as warm and telling as her raspberry-duster, tangerine pashmina and well-worn kicks. Her stories were both nostalgic and filled with crazy current event schedules.
Enthusiastically, she recounted the symbiotic relationship her Castle and Newport's Summer Cottages have with tourists whose support of important architectural archives make them vicarious heirs of their history.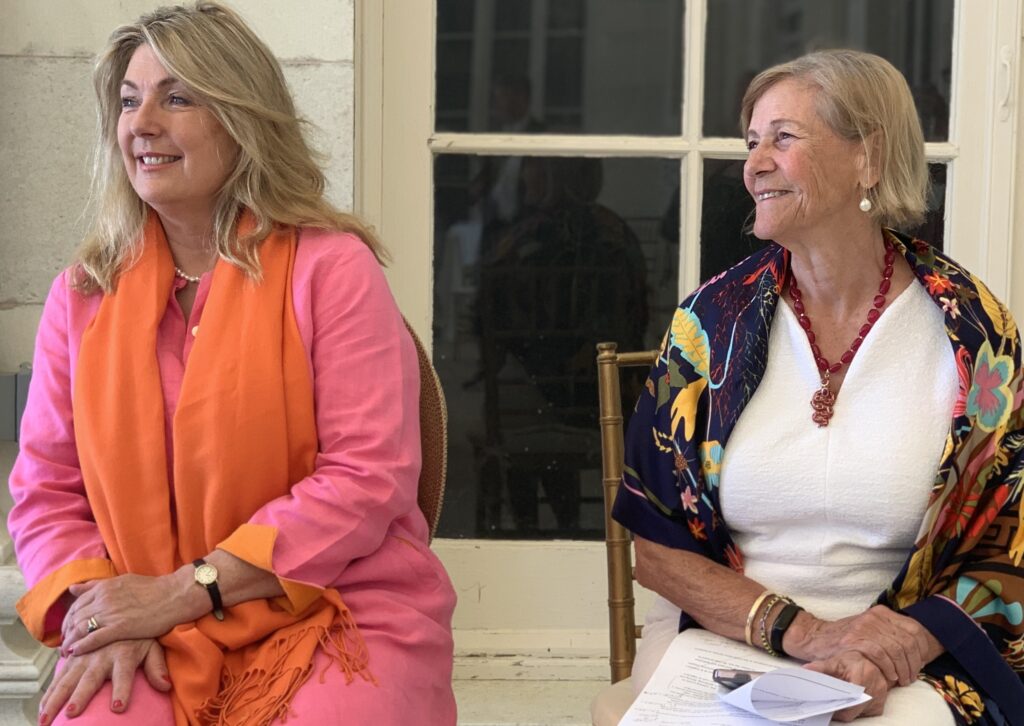 Stressing the best of life is about the 'bones not stones'  of her home, tours of HighClere include good-food, good-drinks and belly-laughs ~ the essential stuff of memory making. For her, Downton Abby, like the Mansions of Newport are best experienced viscerally and emotionally.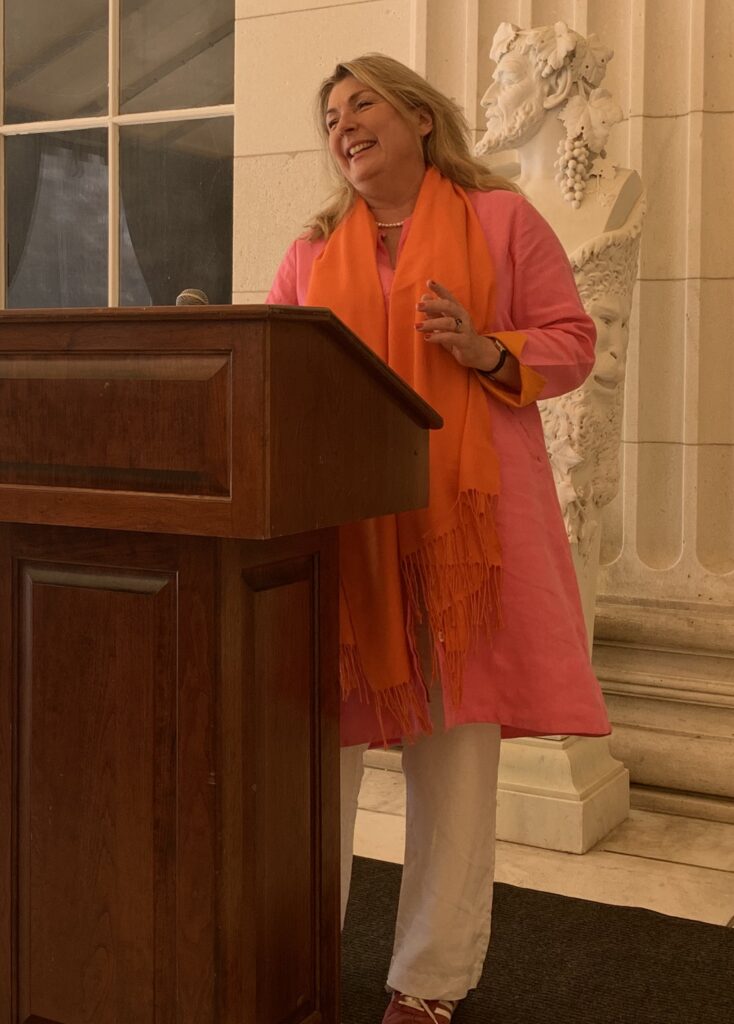 Before flowers were arranged, tables were skirted, and the music played to host and toast the Mistress of Highclere at other more formal events, fan girl-fever over-took what I had hoped would be my professional veneer of agnostic curiosity. If you're fascinated by the shadows of  social ambition and crave details of life lived under chandeliers, a trip to Newport's  'Summer Cottages" may satisfy your curiosities until Season two of HBO's 'Gilded Age' begins next year.  Acquainting yourself in-person with the names, the legends and the scandals synonymous with spectacular American sagas, is a bucket-list worthy trip.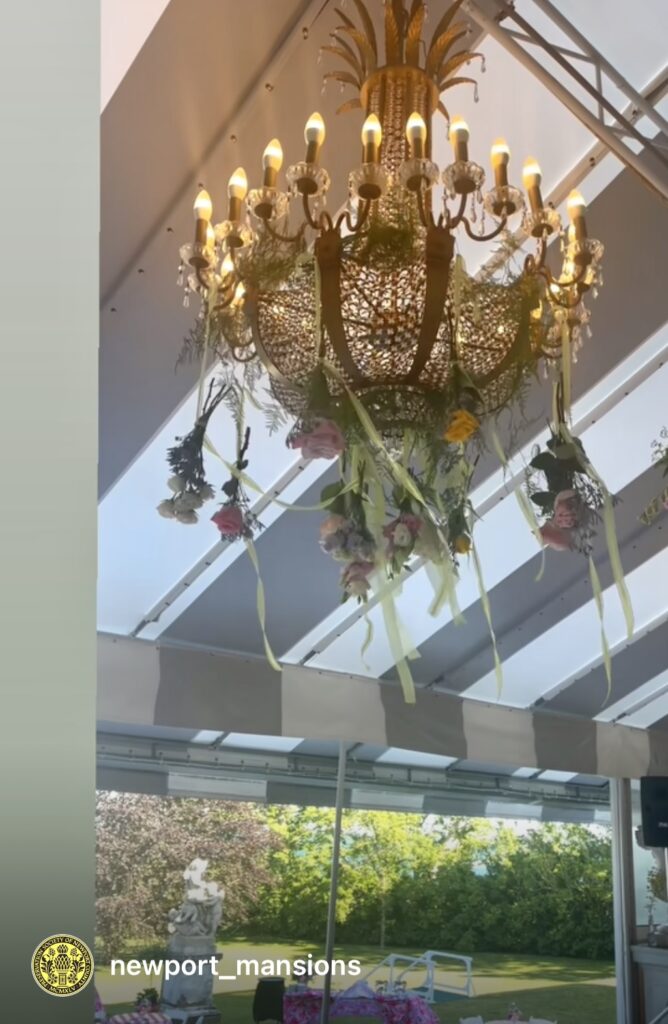 For more info:  www.newportmansions.org