Surreal was the sensation of watching Lord Julian Fellowes stroll out of a Gilded Age library into a room of gold.  The Zen Master of Period-pieces appeared to be stepping onto a sound-stage to direct a scene based on Newport's fantasy-filled Bellevue Avenue. Instead, he was visiting Marble House for a casual conversation with Steven Feinberg, Executive Director of the Rhode Island Film and Television Office and Trudy Coxe, CEO of the Newport Preservation Society about "The Gilded Age"
The opulent surroundings were, in reality, the summer home of William K. Vanderbilt and his wife Alva. Marble House was their  'Summer Cottage' and a prestigious address on the aspirational landscape for socialites of the late 1800's. More than a playground for the family of fortune, the manse was a signature of undeniable status.
Completed in 1892, Marble House was designed by famed architect Richard Morris Hunt.  The palace, lined with 500,000 cubic feet of marble, has been designated a National Historic Landmark. It, with other properties in the vicinity, represent three centuries of the finest achievements in American architecture, decorative arts and landscape design. Perhaps the greatest value of this designation is that it protects more than an exceptional neighborhood, but also a pivotal era in American history. Without the vision of preservationists a complex chapter of our National zeitgeist would be, like so many others of Gilded Age history, lost.  In many ways, Marble House and it's colony of architectural peers is an archeological treasure. These seaside mansions are layered with as many psycho-social artifacts as there are bricks on the belle-ave paved with stories yet to be told.
Unparalleled with abilities to recount amusing anecdotes, social commentary, and an encyclopedic command of historical detail Lord Fellowes wove together a tapestry of tales about his work on HBO's mega hit series, The Gilded Age and it's PBS predecessor Downton Abby.   Like the priceless tapestries of Marble House,  Lord Fellowes is made of rare cloth. His easy charms equal his facile mind and ever-ready sense of humor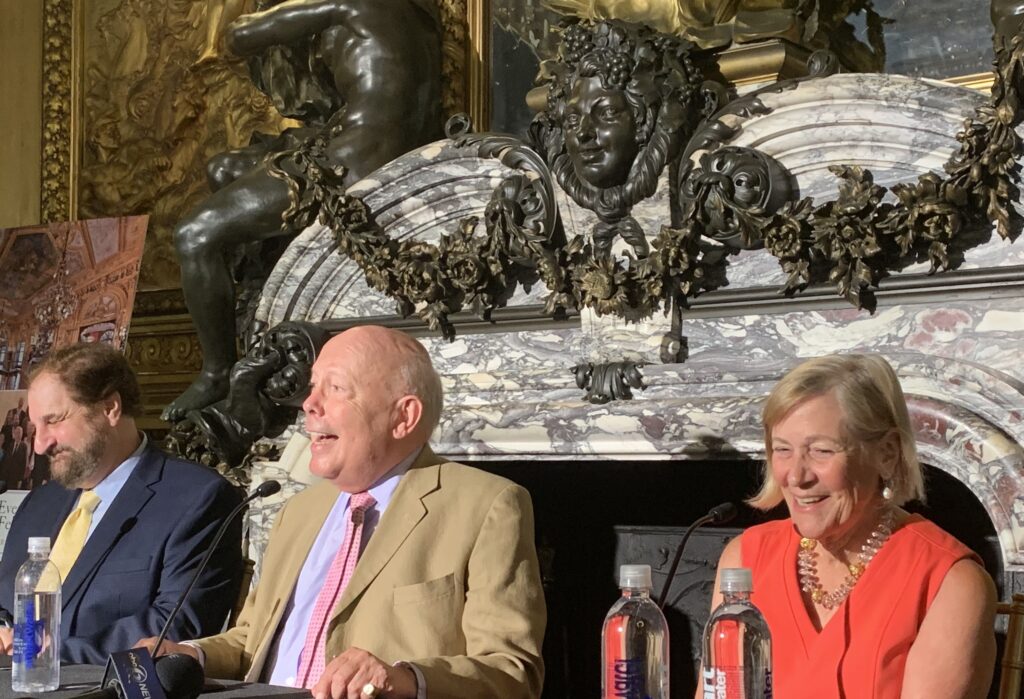 Using Alva Vanderbilt as a prototype of The Gilded Age's character Bertha Russell, Lord Fellowes explained to local and regional media how ambitious women of the time maneuvered in 'polite' society. Challenged by the air of 'new money' arriviste families, like the Vanderbilts, were marginalized by heirs to pedigrees of the Old Guard. The clashes of have's versus have-nots were settled not only with New York bank accounts but social acceptability. As Fellowes explained women of ambition had little influence ~ until they ran the show on the glamorous fem-centirc stage of Newport.
" Nowadays, of course, (Alva) would be the American ambassador to the UN or something, but that wasn't available to her, so she moved onto the stage that was ~ which was social, the society stage, and dominated it and ran it." Fellowes continued to outline Alva's dynamic force, after she scandalously divorced Vanderbilt, she married Oliver Belmont and began construction of Belcourt, their 657 Bellevue Ave palace, across the street from Marble House.
Lord Fellowes explained Newport was a haven for sporting events. Golf, tennis, yachting, horse coaching, and party-life were all past-times of the idle, but Alva introduced the culture to the sport of social-climbing.  As a nouveau-riche she initially adopted customs of those who begrudgingly opened doors to Vanderbilt money, but this women of capacity soon climbed over corseted snobs.  After the death of Mr. Belmont, she returned to Marble House to build a Tea House. She became a Founder of the National Woman's Party and sponsored meetings for Woman's Suffrage in the exotic temple.
Alva's personality was as dynamic as the men who forged railroads that shaped American industry. Likewise, her ambitions and tenacious character were pivotal in shaping the role of women.
When you visit Newport's landmarks, either in person or by watching The Gilded Age, Alva's energy is inspirational. She simply refused to stay in her own lane ~ even when it was gilded!
To purchase tickets to visit the Newport Mansions and FABULOUS EVENTS, search www.NewportMansions.org for details.
The Mansions of Newport are bucket-list worthy.