Barbara Walters was born in Boston, on September 25th, 1929.  Astrologically speaking, Barbara was a Libra.
People who share this sign are known to be over-thinkers who seek to understand all sides of a story before making up their minds. They have a strong sense of aesthetic and are driven to be diplomatic. They tend to be romantic lovers who 'inadvertently' seduce others with a flirtatious manner.  Libras are also known to be narcissists who lack the ability to be introspective.
A random over-view of any star-gazer's chart can't credibly summarize a person's personality.  Yet, this list of cosmic-characteristics accurately articulates the ways Barbara Walters tracked her life in " Audition". Published in 2008, the book was an immensely popular memoir. Reading it now, offers a pleasant walk down-memory lanes around the United States and the globe. It includes literary snapshots of Barbara's life as a young girl and her struggles to find emotional equilibrium as a thriving young woman with Jackie, her beloved mentally challenged sister, who was deprived of much in life.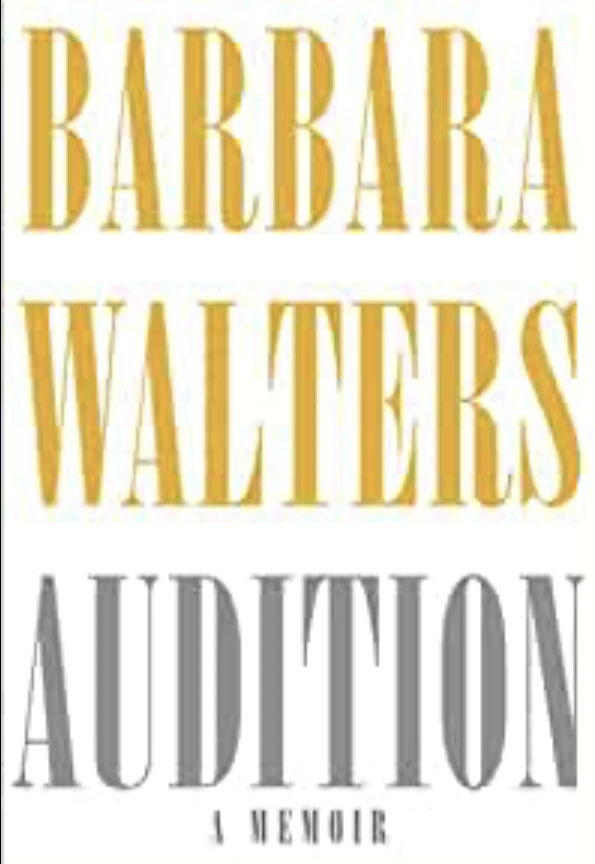 Later chapters include rationalizations of Walters' grappling with her limitless ambition and uncharted trajectory towards the orbit of international success. Even-handed about the predictable failure of three marriages and countless love-affairs, Walters is painfully candid about the agony and guilt of raising a child who went wild in her teens.
In a casual, almost conversational style , "Audition" is an easy-read.  Because Barbara presents all sides of her life-story the star-filled conversation is 582 pages ~ LONG.
Fifteen years after it's publication, "Audition" remains a fascinating read. Filled with anecdotes of the famous and infamous, it's not only an autobiographical eulogy of sorts, it's a reminder of how much it costs women to be successful personally, professionally and as a parent. Then, as it is now, there is no easy-street, anywhere in the world for a working woman.
Barbara Walters was a pioneer in her profession. She had no role model to emulate. Each chapter is filled with an example of success in-spite-of her struggles. Not knowing what to anticipate or which goals to aim for, this book outlines how Walters' climb to international acclaim required flexibility and tenacity. Homework and hubris were her mainstays. She prepared, then prepared again, for interviews she had to beg years to 'get', knowing they could be lost to a competitor with a wink.
This book can be read as a primer by anyone who's feeling unappreciated and overwhelmed in their personal, professional or parenting roles. It transcends the wide-world of broadcasting and the transient nature of fame. The constellation of Barbara Walters' rising stars were earned through unseen blood, sweat and countless tears. 'Audition'  is honest, and filled with integrity born of an inspiring work-ethic. While Ms.Walters may have missed the link between her non-stop globe-trotting and her daughter's adolescent rebellion, the context of "The Hardest Chapter to Write" may give insightful readers food for thought.
The consummate Libra was known for her sense of focus, resolution to maintain high personal standards and a motivation to be ethically successful. Famous for many accomplishments, Barbara Walters signature 'Most Fascinating People'  specials are parts of her legacy, personally, professionally and eventually as a loving parent.
In short Barbara Walters was as Fascinating as anyone she ever interviewed.
The icon passed away in Manhattan, at 93, on December 30th, 2022. The star Barbara Walters created will shine in perpetuity for the standards she set, the professional trails she blazed, and the women she mentored so graciously.