After I schedule an appointment there are only two things I can control at my annual mammogram : I wear my favorite shoes and I wrap myself in a pashmina to comfortably accessorize the centerpiece of this essential, albeit anxiety inducing, screening date.
I try to walk with confidence and approximate a smiling face as I face the check-in process at Massachusetts General Hospital's Comprehensive Breast Evaluation Center. There, without exception, everyone from the front-desk gals to the licensed mammographer is attentive and compassionate. The staff walks each patient through the potentially life-saving squeeze with an air of genuine humanity.
The main waiting room of MGH's Breast Center is an extension of the hospital's concourse of medical miracles. Euphemistically, the path from that waiting room could lead anywhere.
Waiting to walk into the next configuration of smaller waiting rooms women sit like cue'd Scrabble tiles. The uniform of the dis-robed is a ubiquitous hospital smock, a sanitized fashion-must for those staring at their shoes or flipping through magazines covered with letters that would make sense on any other day. I sit with wide eyes and clammy hands clinging to my pashmina frozen by the 'what-if's' that are shaking my core to my shoe soles.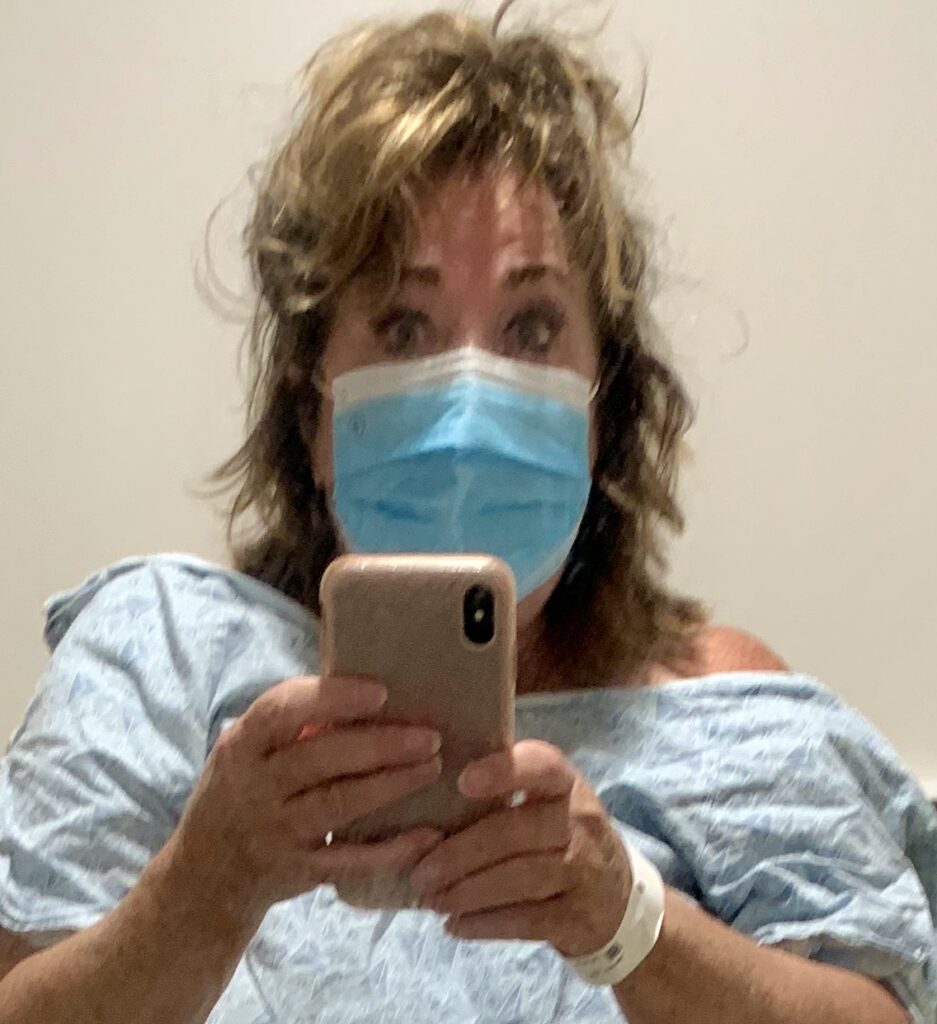 \
When called from the Scrabbled line-up, each woman traces the steps of the countless women who walked before her as she's escorted into the room with the mysterious boob-squeezer.  After the images are taken, and sometimes retaken, the next phase of the game begins. Waiting for imagining results to be read is the bookend to the bated-breath gift of mammogram technology.  The sisterhood of those screened share the camaraderie of complex family histories with an appreciation for medical scholarship.  But the wait, the wait is brutal.
On August 8th pop-star and social activist Olivia Newton-John passed away from breast cancer, a disease she fought for 30 of her 72 years.  Yesterday, Today Show legend, 65 year old Katie Couric shared she was diagnosed with the insidious disease in June. Their news is our news. Even if they faked every smile and self-confident gate their reassuringly familiar habits were ours to emulate when stressed.  How could breast cancer happen to them? And since it has ~ could it happen to us?
According to the CDC, 287,850 new cases of invasive breast cancer will be diagnosed in women in 2022. Other than skin cancer, breast cancer is the most common cancer in women. The American Cancer Society says; "Overall, the average risk of a woman in the United States developing breast cancer in her life is about 13%."    "At this time there are more than 3.8 million breast cancer survivors in the U.S."
On September 12th, 2022,  President Biden announced the launch of the Cancer Moonshot project, a program designed to accelerate scientific discovery in cancer, foster greater collaboration, and improve the sharing of cancer data.  The intended goal is to cut the death-rate of cancer by at least 50% over the next 25 years. The President said ,"there's reason to be optimistic, miracles happen".
In recognition of Breast Cancer Awareness Month, throughout October, She the People~ News will feature updates on breast health provided by Massachusetts General Hospital.  The collaborative scholarship of MGH / Brigham and Women's Hospital practitioners, with others, is advancing a real understanding of breast cancer causes, prevention, research and treatment.
You may not be able to mask anxiety with a smile or fake a confident strut but scheduling a screening appointment, accessorized any way that comforts you, is the best way to take control an essential part of your routine health-care. Squeezing in the appointment may save your life!
Stay Tuned for positive news