'Our Shoes Our Selves' by Bridget Moynahan and Amanda Benchley skips the soulful relationship Cinderella had with her fairytale slippers and races instead to the transformative realities of our soles. Tackling the closeted psychology cobbled into footwear this study of 'shoe-ology' is considerably more bad-ass than pretty glass. It's a story about 40 brilliant women and their feats of accomplishment.
Recognized as Natasha from "Sex and the City", Erin Reagan Boyle from "Blue Bloods" or Tom Brady's ex; Bridget Moynahan's compilation of stories features ceiling-breaking CEO's, a U.S.fighter pilot, and all walks of scientists. This unconventional book fuses function to fashion and provides a platform to explain how a particular pair of shoes landmarked a personal triumph as well as a sartorial statement. Rather than a vapid display of courtesan-kicks or high-society heels 'Our Shoes Our Selves' foot-notes the scuffs that inevitably accompany even the most carefully cultivated image of success. Stories in this book epitomize hard work while inspiring hope.
In addition to the emotionally empowering motorcycle boots favored by Moynahan, Our Shoes, Our Selves includes anecdotes and a parade of footwear from women who sought unconventional ways to succeed. Ann Dunwoody's Corcoran jump boots symbolize her trajectory to becoming America's first female four-star General. Dr. Mae Jemison's sassy but broken high heels speak to her attitude and intellectual altitude as a NASA astronaut, physician and engineer. Gretchen Rubin's comfy sneakers help the award-winning pod-caster and NYT best-selling author explore the path to happiness after serving as a legal clerk for Supreme Court Justice Sandra Day O'Connor.
The book jacket's shocking pink stiletto belongs to 'Pink Ceiling' CEO Cindy Eckert. The self-made billionaire shares her inspiring story of taking-on the FDA to earn approval for the first sexual desire drug, Addyi, for women. Her formula for success includes a complex and tear-filled mess. Thriving on the stories of women underestimated in business Eckert launched a 'pinkubator' to nurture the aspirations of other female entrepreneurs typically dismissed by 98% of venture capitalists.
Tying these eclectic stories together with stem-cell researcher Susan Solomon's surgical booties, oceanographer Sylvia Earle's ruby colored Navy Special Forces scuba-diving fins and NASCAR driver Danica Patrick's racing boots are testimonials to tenacity. Succinctly written and beautifully photographed this book struts between intensely personal and universally relatable examples of challenge and accomplishment. 'Our Shoes Our Selves' is a glossy reminder if you want to make strides in life put one foot in front of the other.~ and keep going.
'She' recommends this as a Christmas gift or when you're looking for something inspirational to read while staying safely, covid-cozy.
Let's see your sole story.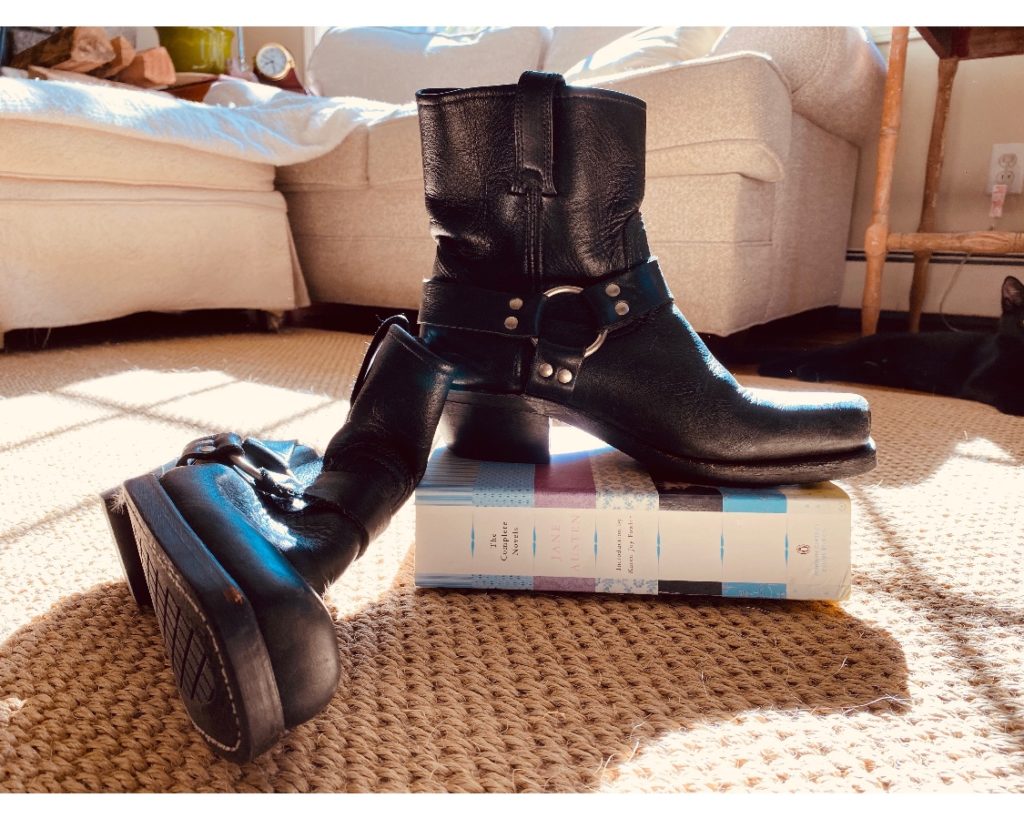 2 of Dr. Smith's soul satisfiers,Moto-boots and any book  by Jane Austen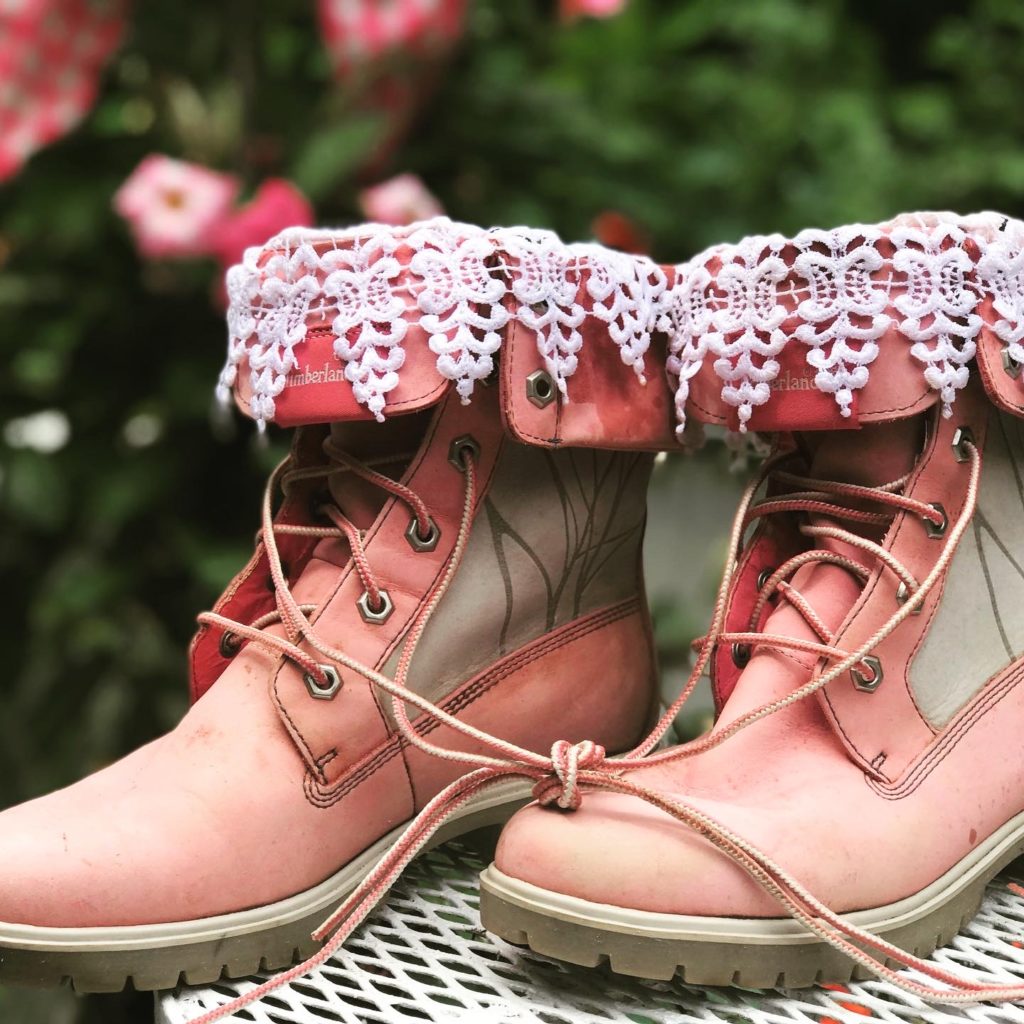 Pink Timberland boots and lacy Gorsuch socks were the match for my mom's snow mountain funeral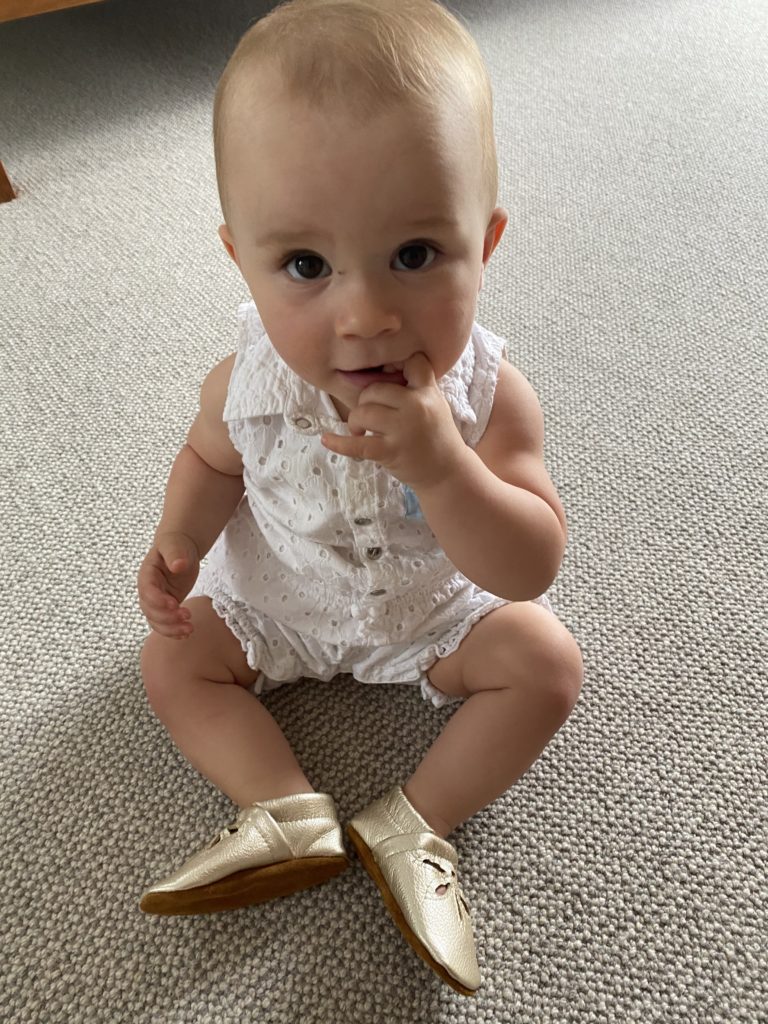 Baby Hope's golden shoes and her golden future.