On September 12, 1962, President John F. Kennedy delivered his famous Moon Shot speech at Rice University in Houston, Texas. There, he committed the resources of America to exploration of the moon. The vision was bold, technically challenging and an enormous financial risk. Only the possibility of success existed.  Famously, President Kennedy said, " We chose to go to the moon, in this decade and do the other things, not because they are easy but because they are hard. Because that goal will serve to organize and measure the best of our energies and skills, because that challenge is one we are willing to accept, one we are unwilling to postpone and one we intend to win." His leadership was a catalyst for dynamic focus on combined sciences to solve problems for the good of all mankind. With time and combined talents Americans won the race to space.
Exactly, 60 years after the Moonshot speech in Houston, President Joe Biden channeled the spirit of President Kennedy in the visually stunning atrium at the Kennedy Presidential Library in Boston. His ambition is to launch a Moon Shot campaign to end cancer.  An American flag, a vaulted ceiling, sunny-skies and a rising tide added a "sky's-the-limit" energy to the harbor-side auditorium's atmosphere.
President Kennedy's daughter, Ambassador Caroline Kennedy and her son Jack Schlossberg introduced President Biden to thought-leaders in cancer research and political dignitaries.
Audience members included; Health and Human Services Secretary Becerra, Labor Secretary Marty Walsh, Boston Mayor Michelle Wu, House of Representatives Ayanna Pressley, and Jack Auchincloss, the son of Dana-Farber Cancer Institute CEO Laurie Hollis Glimcher, M.D.
President Biden's address began by saying "Today I'm setting long-term goals for a Cancer Moon Shot to rally American ingenuity just as we did to reach the moon". He defined America as a place where, anything is possible. Like President Kennedy's clarion call to harness technology and enter space, President Biden's sights are set on "a united purpose to serve, organize and measure the best of our energies and skills to end cancer as we know it and even cure cancers once and for all.  Cancer does not discriminate red or blue; it doesn't care if you're a Republican or Democrat. Beating cancer is something we can do together."
Continuing, the President said "We've made enormous progress in the past 50 years since President Nixon signed the National Cancer Act. We've learned cancer is not a single disease, but there are over 200 different types of cancer caused by different genetic mutations in our cells.  Progress in understanding the disease has reduced the death rate from cancer by more than 25 %. Despite the progress, cancer remains the number two cause of death in America, second only to heart disease."
"The goal of Cancer Moon Shot  is to bring a new urgency to the fight, harness federal resources, change the culture, increase cooperation, and break-down silos that exist. That includes publishing results of federally funded research for any patient, for any doctor ~ for free.  This administration launched Trials.Cancer.gov so everyone can find a clinical trail near them or across the country.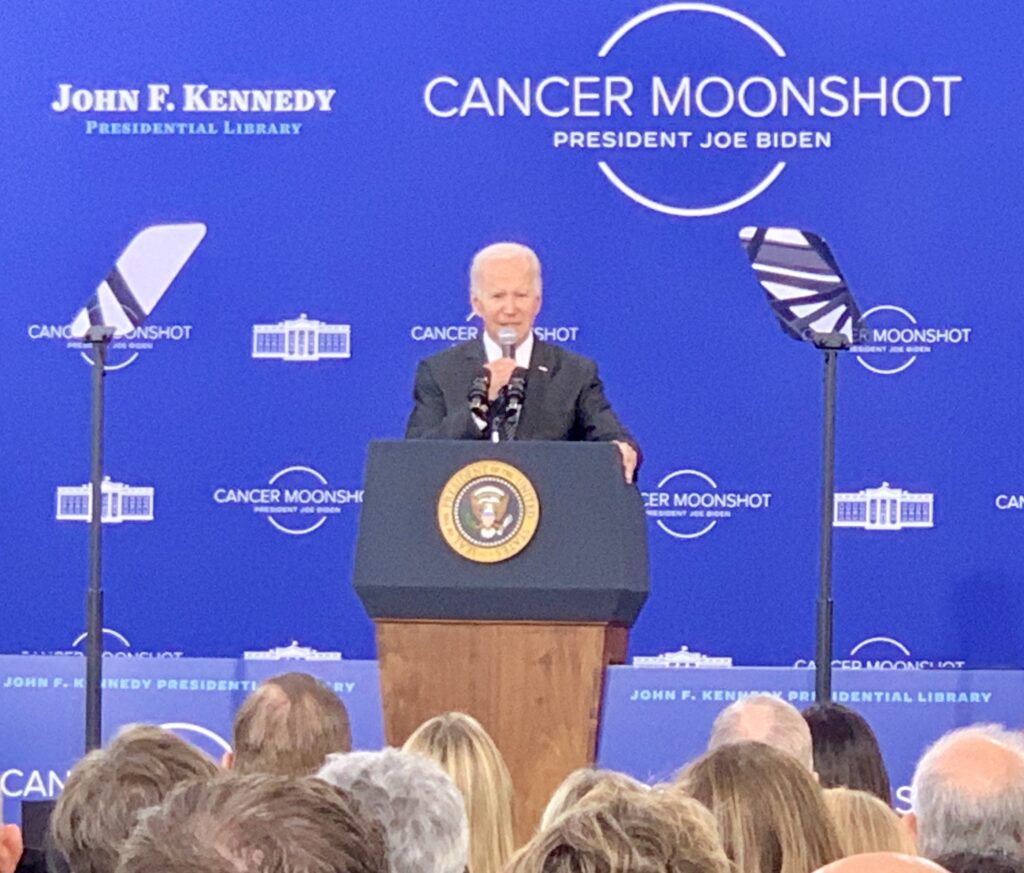 " Moonshot is a movement to create a cancer research and care system. The goal is to change stories of loss and dispare to ones of hope through the combined scholarship of doctors, researchers, advocates, caregivers, patients and survivors. This is a central effort. We want to cut cancer death rates by at least 50 % in the next 25 years and  to turn more cancers from a death sentence into a chronic disease, Today, we lack strategies for developing treatments for some cancers, like childhood cancer." Moon Shot aims to target pediatric oncology.
"We are exploring ways to prevent cancers and whether mRNA vaccine technology could be used to stop cancer cells when they first arise. We are targeting genetic research and immune responses to tell which combination of treatments are likely to work best for individuals. I've also formed a new Cancer Cabinet that is driving a 'whole-of-govenment' effort to unleash every possible asset within out power, from NASA, that knows more about radiation than any doctor does, to the Defense, and Energy Departments that can do a million-billion calculations per second."
To accelerate the goals of Cancer Moon Shot, we invested a billion dollars in ARPA-H, ( Advanced Research Projects Agency) to create a new resource dedicated to driving bio-medical innovations and lead break-throughs in technology that prevent, detect and treat disease. Lead by Dr. Renee Wegzyn, ARPA-H will tap talent and expertise from across industry, academia, and government to marshal resources and new ideas together through public private partnerships.
Moon Shot's  investment in bio-education will drive R & D and use AI to produce significant break-throughs in healthcare. Moon Shot will help train a skilled work-force from community colleges to graduate schools to prioritize investments in imaginative bio-research and innovation strategies, such as genetic zip-codes to deliver drugs and gene-therapy to precisely the right tissues.
60 years ago President Kennedy  said " We set sail on this new sea because there is new lifesaving knowledge to be gained, that must be used for progress of all people."
This week, President Biden echoed that spirit  " It is critically important for us to rely on the strategies of research scientists and practitioners to unleash the power of American enterprise in new ways to explore and conquer cancer. There's nothing nothing beyond our capacity if we work together as the United States of America"
for more information : WHITEHOUSE.gov/CancerMoonshot