The American Struggle by Jacob Lawrence is a must see exhibit! Organized by the storied Peabody Essex Museum, it's razor-sharp lines simultaneously trace and foreshadow flash-points of American revolution. Articulating phases of national injustice Lawrences' compositions are equal parts historic and prophetic blueprints of America.  Painted in the 1950's the genius of this artist offers bold commentary on the DNA of today's civil unrest.
Curated by Elizabeth Hutton Turner and Austen Barron Bailly 'The American Struggle' is a prescient multi-media riff on the selective application of the declarative misnomer that claimed 'we hold these truths to be self-evident, that all men are created equal'. Thirty of Lawrence's cubist paintings pierce that noble rhetoric with the knife-like colors of bravery, crisis and honor. Irony bleeds from each frame.
Meticulously researched, this exhibition chronicles our national tolerance of intolerance. The intimacy of the work encourages a closer look at the legend of physical and psychological shackling of Indigenous Peoples, Slaves, and Women. Critical thinkers analyzing the context of these works will find they expand a sense of historical empathy. Much like Lawrence's layered paintings, those insights can be applied to the headlines of today's social movements.
One of Lawrence's 'brush-stroke of genius' commentaries is a painting of the Revolutionary War hero, Margaret Corbin. In November of 1776, Margaret followed her husband John into battle against the British. Dressed as a man, her job was to help him load cannons as well as cook, do laundry and attend to the wounded. Jacob Lawrence deployed a cubist shard to point to the time John was killed and Margaret stepped into his post.
Recognized "as the first woman to take a soldier's part in the War for Liberty" Margaret Corbin was also the first woman to earn her own a military pension. Yet, she like all women of the time was denied the right to vote in the Country that she served. This footnote of history timestamps a swath of gender-inequities ,some of which remain unresolved.
'American Struggle' is an archeological dig of American culture and insidious bias. It's historical language and imagery of war are translations of today's news.
Coordinated by Lydia Gordon,this exhibit of small works and bold statements fuses Lawrence's scholarship and experiences with relevant music, text and technology. The dynamic nature of 'American Struggle' is challenging. It's thesis will prompt free thinkers to imagine how a nation conceived in liberty and dedicated to the proposition that "all men are created equal" intentionally continues to make exceptions to the truths we hold self evident.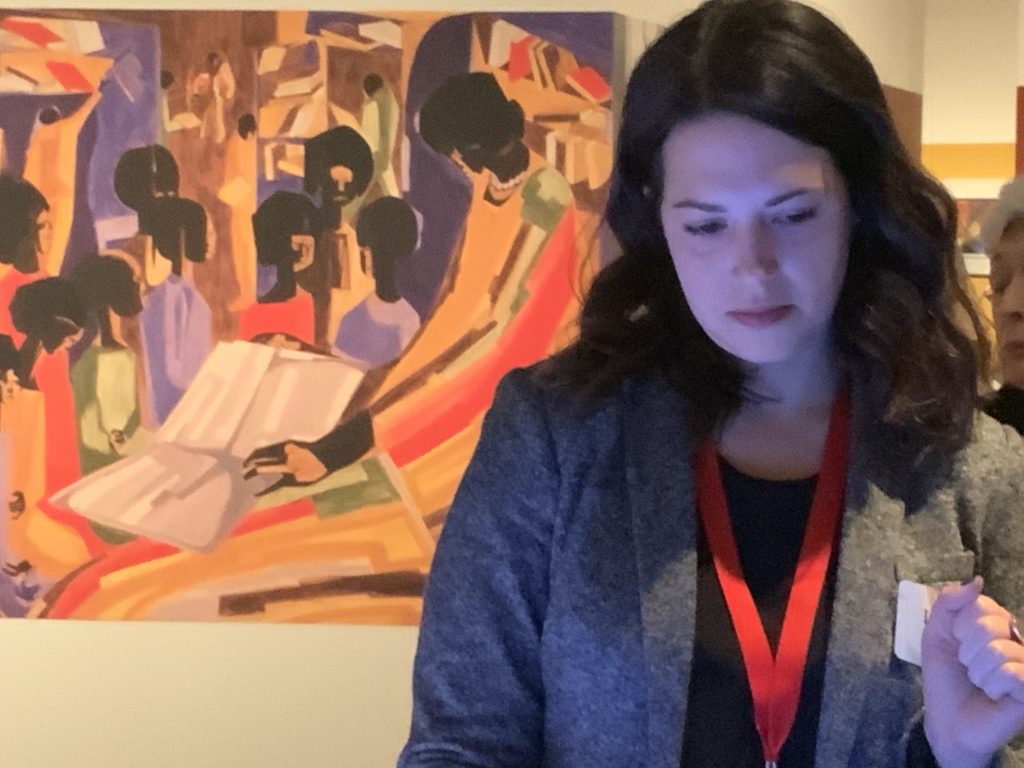 Consider the genius of Jacob Lawrence at:
The Metropolitan Museum presents Dread Scott on Facebook and YouTube in a discussion of Jacob Lawrence.
The Birmingham Museum of Art in Alabama: November 20th~ February 7th 2021~2000 Rev. Abraham Woods Jr.  Blvd Birmingham, Alabama
The Seattle Art Museum: February 25th~ May 23,2021 1300 1st Ave, Seattle Washington
The Phillips Collection: Jun 26th- September 19th 2021