It will come as no surprise to devotees of the Peabody Essex Museum to know the Association of Art Museum Curators honored PEM with a prestigious prize for excellence at a recent award ceremony. This time the recognition was for curation of "On This Ground : Being and Belonging In America."
The Association of Art Museum Curators is a network of over 1,500 members from over 500 institutions around the globe that celebrates curatorial narratives. As the flagship voice for curators, the organization ensures critical issues within the art community are advanced. The international group recognized " On This Ground: Being and Belonging in America" as the first installation of it's kind to combine significant collections of Native American and American art to tell the complex story of the American nation.  "On This Ground" was one of only 11 projects selected from a group of nearly 175 nominees to be recognized for it's reflection of the values of inclusion, access, dialogue and engagement.
"On This Ground"  is an ongoing installation that helps us understand what it means to belong to family, community and country through 250 works dating from 10,000 years ago to the present.
Here's an except from a July,18, 2022 STP~News review of "On This Ground: Being and Belonging In America".  Spoiler Alert ~ It's a must see!
Forrest Gump said, "Life is like a box of chocolates, you never know what you're going to get." Adopting his philosophy will prepare guests of the Peabody Essex Museum to experience "On This Ground: Being and Belonging in America." Like Gump's chocolates, this exhibit of 250 multi-media masterworks is a fusion of visual temptations. Each piece is a complete thought, representational of a distinct cultural orientation.  Some pieces will delight you, others may be tough to swallow.
The genius of this exhibit is the juxtaposition of ancient and modern-day examples of Indigenous American and American artistic excellence. On this Ground is a sampler of beautiful things,  The sampler fits together neatly as American history, but an unabridged version. It's legends are organic manifestations of a story told in artistic dialects inclusive rather than exclusive of vastly different perspectives. One of the challenges of this long-term exhibit is to examine the nuances of "community" and observe it's definition as a process of social-emotional evolution.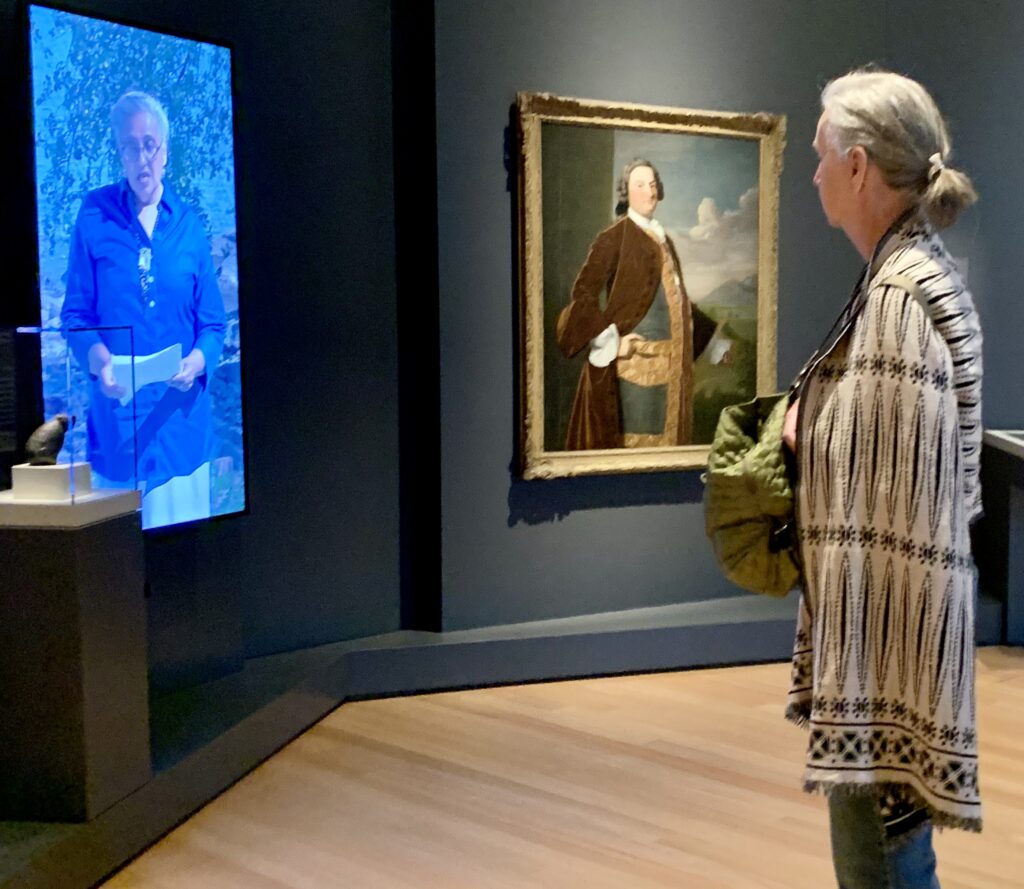 In a gallery cross-way, paintings of the Salem Witch Trials in Colonial America contrast with Indigenous American ideations of female energy.  The duality is a harsh reality on the landscape of Belong and Belonging in American-lore. The exhibit flows with human experiences, some are purpose-driven, designed to polish an individual's image while others express communal engagement.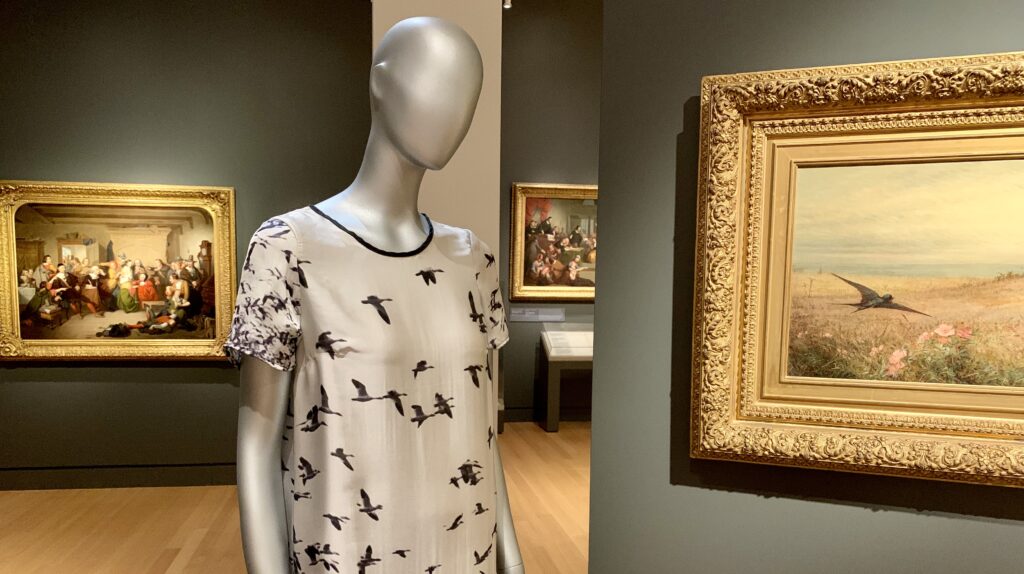 At times, the flavor of On This Ground;  is as bittersweet as innocence lost. Multiple studies in contrast feature a progression of the cultural role of women.  Many Colonial works perpetuate notions of women denied the right of self-determination while Indigenous ideologies embrace a sense of connectivity and celebrate female empowerment.
Framed by the image of Nathaniel Hawthorne and imagery of his morality-tale "The Scarlett Letter" rests 'Evangeline', a marble sculpture of a passive woman based on Henry Wadsworth Longfellow's epic poem of the same name. Sculpted by Louisa Lander "Evangeline' is one of only two works by the artist who was deprived of pursuing her career, The victim of jealousy in a patriarchal society, Lander's creativity was silenced by men.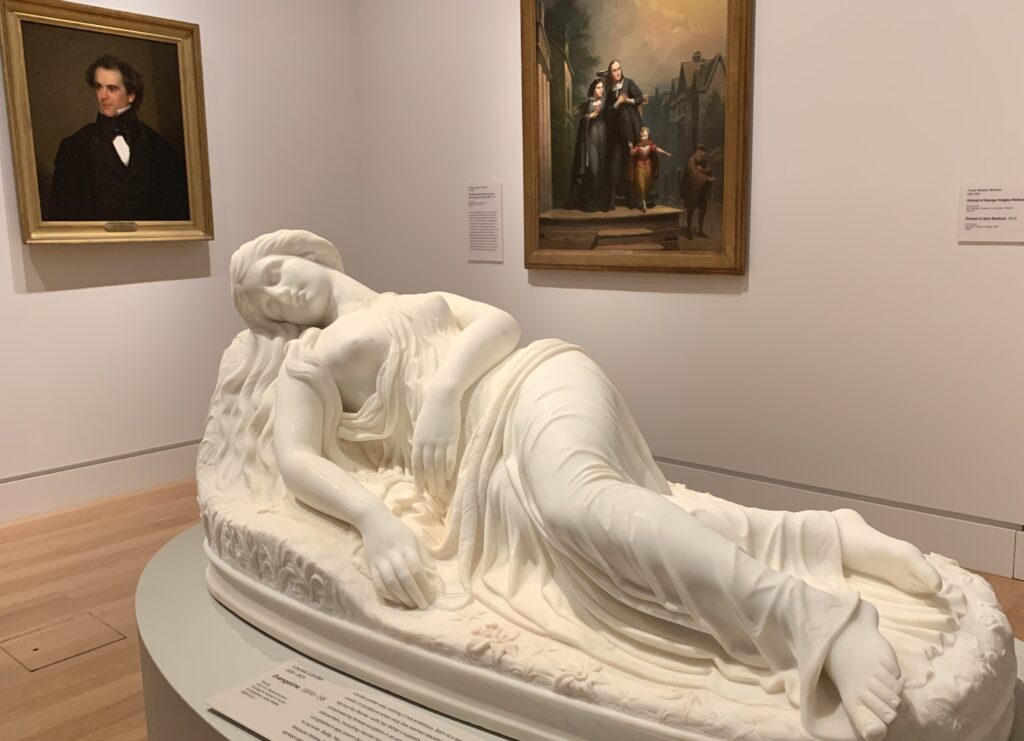 In contrast," Fringe" created in 2008 by Rebecca Belmore, is an arresting photograph. It's also a modern-day affirmation of crimes perpetuated against women, The 'wound' on the models back defies romanticized nudes of 19th century Euro-idyls. Deerskin string and red beadwork metaphorically trace a pattern of violence perpetuated against Native women, girls, transgender and two-spirited peoples, Belmore's image records trauma and drips with hope of future healing by bearing witness to American's long history of gender-based crimes.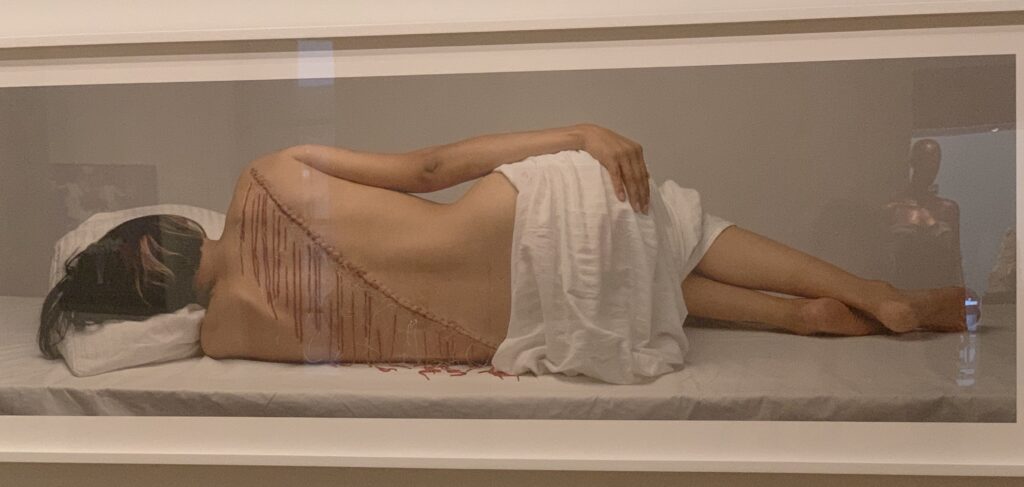 On This Ground: Being and Belonging In America is a thought provoking collection of eclectic Native American and American Art intended to spark conversations about our shared heritage.  For vacationer's in the Boston area, a visit to The Peabody Essex Musem in historic Salem, Massachusetts to see this award winning exhibit will be a memorable part of your trip. Perfect for all ages ~ this is bucket-list worthy!