The Preservation Society of Newport County invites you and your little Boo's to Trick-or-Treat at the Breakers.
Friday night October, 27th the 'Summer-Cottage' synonymous with Gilded Age glam, will host a family event for witches, vampires,super-hero's and skeletons of all ages!
Decorations to-die-for will fill 10 spook-tactular rooms-to-remember. Followers of Gilded Age entertainment will recognize the Vanderbilt's Great Hall, Dining Room, Billiard Room, Morning Room and Library like you never have before the gore.
Six designated rooms are destinations for ghouls-of-Halloween-past to pass out toys and treats to wicked-nice-guests.
A family photo-station will preserve the night of belly laughs that has become a fall classic in Newport.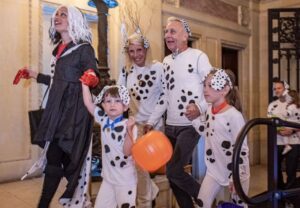 Tickets for this fun-for-all event are limited and sell-out in a wink. Mummies need to move quickly to snag a time to visit 44 Ochre Point.
Entry times are at 5:30 and 6:30. Tickets are $10.00 for each adult and child . Kids under 2 are admitted free.
Trick or Treaters are asked to bring a non-perishable food item to the Breakers for the Dr. Martin Luther King Jr. Community Center food pantry.
For more details or to purchase your ticket:
infö@newportmansions.org or call-401-847-1000