The Myra Kraft Community MVP Awards are dedicated to recognizing volunteers who serve their communities "above and beyond". The mission statement of this philanthropy is vague, yet by co-opting Myra's life-long commitment to doing good-deeds, it works as a SUPER-playbook for charity.  Mrs. Kraft's personal commitment to lending a helping-hand was her trademark.
Myra Kraft passed away, in 2011, from ovarian cancer. In her memory, the Kraft family has continued to seed her 'menschly-spirit' of good-deed-doing.  Through the MVP Awards, Myra's vivacious heartbeat resonates loudly across all 6 New England States. To date, 475 volunteers have been recognized for their dedication to non-profit work. Their diverse charities have been awarded more than 3.5 million dollars.
On June 8th, at Gillette Stadium, Bob Kraft recognized 26 MV-Volunteers who distinguish themselves by addressing communal needs above and beyond all expectations.The volunteers ranged in age from 21 to 80 years old. Collectively, their non-profit commitments champion the needs of domestic violence prevention, education, healthcare services, homelessness, mentoring and Veterans.
One of the award recipients was Bobbi Dynice,a co-ed from Marblehead, Massachusetts. Bobbi earned her Masters Degree in Occupational Therapy from Connecticut's Quinnipiac University, last month, with a 4.0 GPA, while volunteering at the Diaper Bank of Connecticut.  According to Janet Stolfi Alfano, Executive Director of the Diaper Bank and Jenny Kohl, it's Community Outreach Coordinator, when they became aware the  MVP Awards Committee was recruiting grant nominees they knew the Kraft organization needed to hear of Bobbi Dynice's exceptional commitment to volunteering.
The women explained the mission of the Diaper Bank is to ensure a reliable supply of diapers, end the stigma surrounding menstruation and combat period-poverty.  Their Connecticut based non-profit business model emulates the one used by many food-banks around the country.
Thinking outside the diaper box, this Bank has also become a think-tank for legislative activists. The group was instrumental in ending taxation of hygiene products in Connecticut. Currently, they're working on legislation to mandate the State underwrite the cost of diapers and feminine products for anyone eligible for food-stamps. Once those plans are adopted and successfully implemented, this ambitious group also plans to use their diaper/sanitary product distribution model as playbook for national agencies.
Alfano and Kohl said there was no way to calculate the time Bobbi has committed to this cause. Her mojo has been boundless. One example of her creative commitment to the Bank was to co-opt her birthday into a fundraiser, asking friends to bring diapers rather than gifts to her party. But, she went above and beyond that idea by asking food-trucks to cater the celebration and donate a percentage of the party profits directly to Diaper Bank initiatives.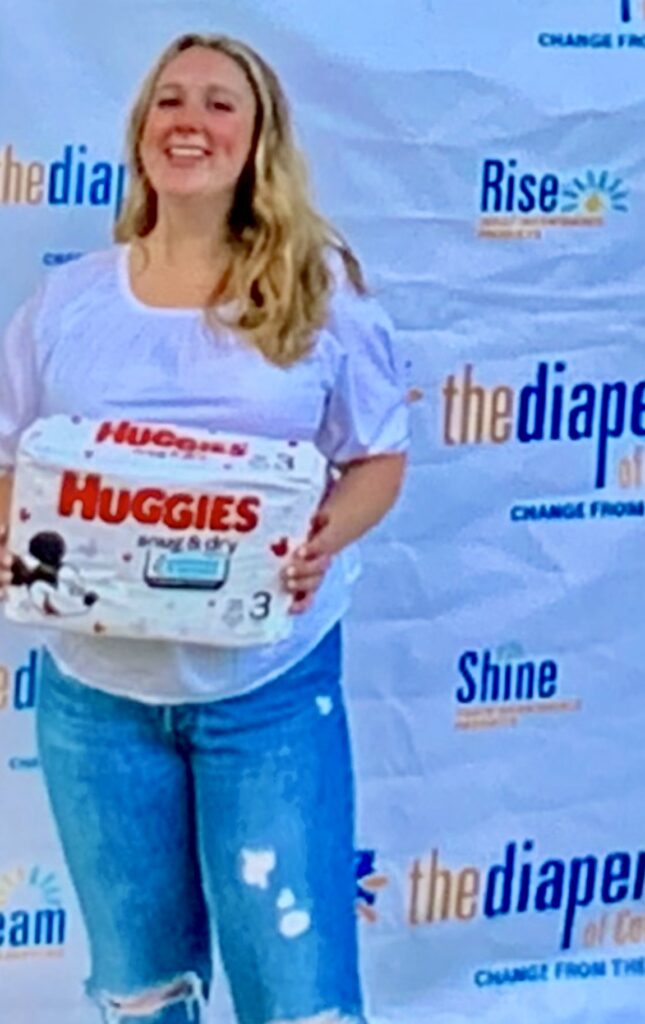 The party-plan became a contagious family affair when mom, Lynn Dynise covered all the drinks for the birthday celebration, making the final donation even greater.
After the Award ceremony, Bob Kraft, Patriots CEO, said of volunteerism "the reason volunteers aren't paid isn't because their work isn't worth anything, but rather it's priceless." The event that recognized 26 of the Most Valuable Volunteers in New England was used as a showcase for the character of all those who donate their time and talents to the service of others. Josh Kraft, Kraft Group President, said "it's heartwarming to have read more than 400 letters of nomination using words like tireless, devoted, selfless, generous, and kind as a few of the adjectives to describe so many people around New England who work quietly to help strangers. This spirit of giving is a true reflection of the character and life of Myra Kraft."
For more information on the Myra Kraft Community MVP Awards please visit:  www.patriots.com/community. Nominations of volunteers begin in February and are open to all non-profit organizations.
For more information about the Diaper Bank of Connecticut email : info@thediaperbank.org or call 203 934 7009