Sparkling is the first word that came to mind when entering the Fashion and Design Gallery at The Peabody Essex Museum.  Each mannequin in the color-blocked exhibit represents a point of punctuation. The syntax of these sartorial statements, embellished with light and sparkle, can be read as a subliminal language.
This must-see-it-to-believe-it collection of 57 ensembles represents a chapter in the career of fashion doyenne Yolanda Cellucci. Columns of couture are original examples of how a woman of confidence expressed a dimension of herself in the era of glamour.  In the 70's, 80's and 90's devotees of TV were captivated as much by hemlines as plot-lines that relied on interpretations of personal style to help tell a story. From oil-barons in Dallas, to dynastic dramas in Denver, and a Nanny stiletto-ing around Manhattan's Upper East Side, fashion was used ubiquitously to reference a woman's agency. Yolanda Cellucci was one in an elite group of trailblazers who understood the power of curated style and possessed the ability to translate a personae into a textiled-lexicon of light and dark.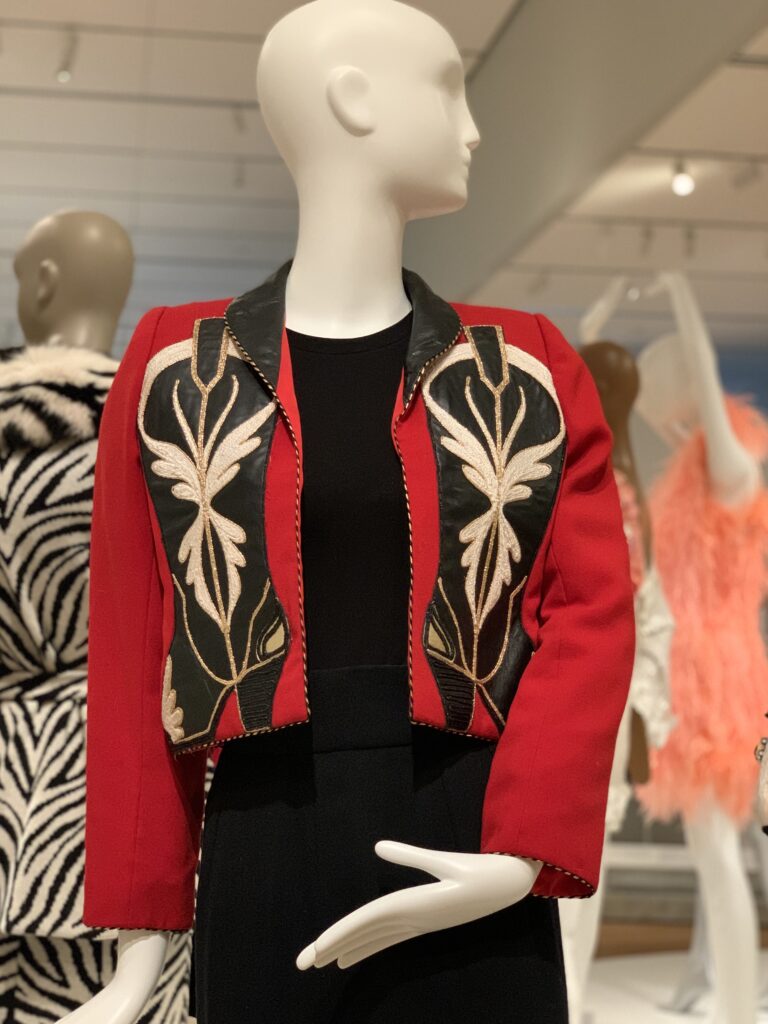 Her hallmark of glamour became a thesaurus of cultural expressions for fashion conscious women from coast-to -coast.  'Yolanda's ' full service salon was a landmark for Fashionista's seeking her fusion of spa services and clothing advice.
Today, her innate eye for forms-that-flatter remains an extension of her knack for making women feel comfortable in clothes, but more importantly, in their own skin. Yolanda encourages women to dare to develop their inner-diva. Sometimes such a transformation requires spa-treatments, hair extensions, and custom accessories, to cultivate "the look" that matches the client and occasion, but Cellucci's secret to success is always the same  "Fashion must include fun!"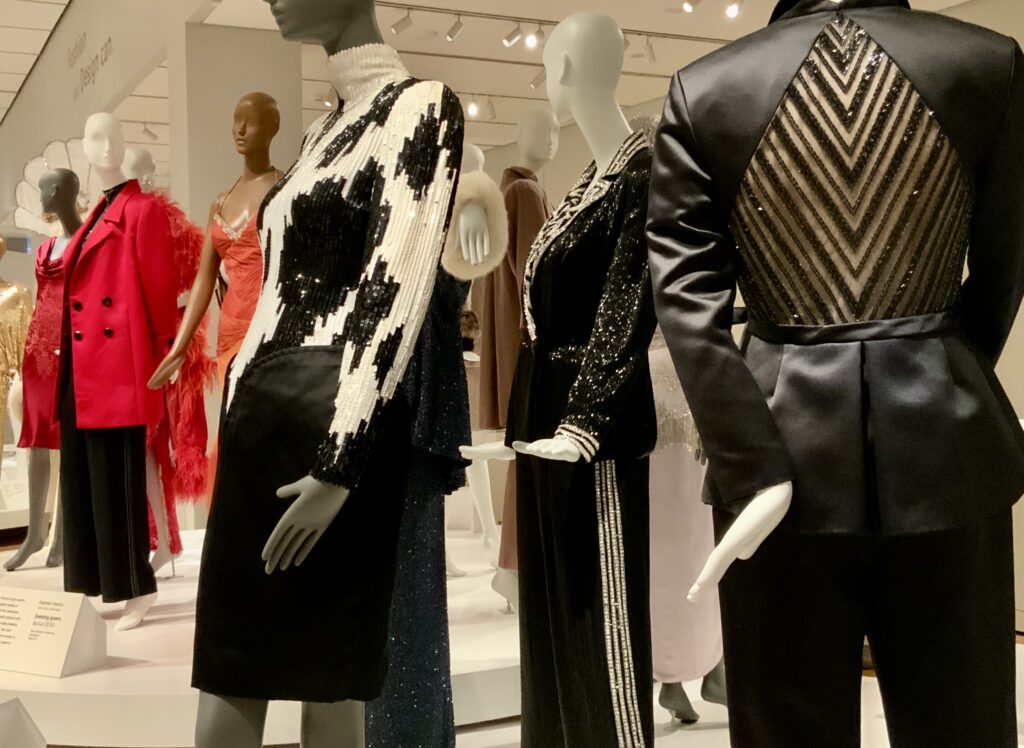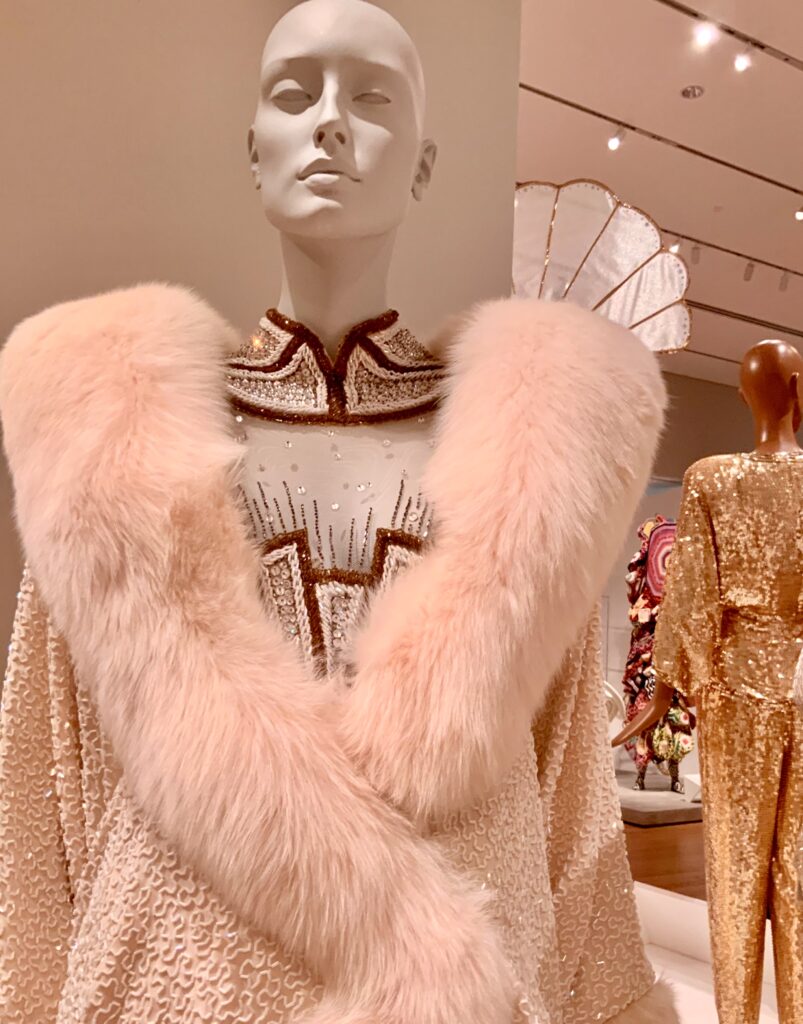 On May 11th, the Peabody Essex Museum is hosting a cocktail reception to re-introduce Yolanda to fans of fashion. The guest of honor will explain how she continues to tailor her multi-faceted career to suit the needs of women and how she uses fashion as a vehicle for her entrepreneurial spirit. Ever aware of how fashion influences women emotionally, the gallery display includes models of all ethnicities and sizes. The concept follows the footsteps of the dedicated humanitarian when she organizes fashion shows to elevate awareness of and raise money for important initiatives.
In a sneak-peak exclusive, STP-News strolled through PEM's Fashion and Design galley with the woman who has made lasting contributions to understanding the broader definition of beauty.  We chatted about the origin of her illustrious career that's a complex tapestry of ambition, creativity, loss and optimism. Crediting her mother for encouraging her to believe she could rise to any occasion Yolanda said "In retrospect it was misfortune that inspired my good fortune. During the Depression spending money on a lavish prom dress was a challenge."  Resourceful to the core, Yolanda found fabric that sparkled ,then whipped it into a gown that cost 50 cents per yard.  The ingenue of ingenuity was crowned queen of the prom.
Another tip from her mom was to use a crisp white blouse as a closet staple because it's as easily dressed up as down. The timeless advice has served Yolanda well.  Mingling with gallery guests, surrounded by the beads and baubles she donated to the Museum's Permanent Collection, Cellucci's vivacious manner matched her statuesque presence making it impossible to believe she's 88 years old. To quote a 1977 classic song by the Commodores ~ "She's a Brick House"! 
As business partners Yolanda's husband and kids were ~ all in.  Throughout their shared career, the only unbroken family rule was never to miss Sunday dinner and 'Gigi's' homemade lasagna.  It's a loving tradition that keeps the family tight through triumph and tragedy.  Yolanda said, "the meal never has to be fancy but it has to be served with style. A gold placemat and a Vanity Fair paper napkin can elevate a simple meal into a beautiful occasion."
Optimistic returning to social gatherings, post-pandemic, will provide us with opportunities to dress in something sparkly, Yolanda began to speak metaphorically. She reflected on the joyful sensation of watching a sunrise, a sunset or star-gazing and how flashes of light interact with darkness in unique ways  "Throughout time, there's been a sense of universal appreciation watching a colorful flash transform the world. The ordinary becomes extraordinarily beautiful and instantly fills hearts with joy. "
The sincerity of her phrasing added unexpected gravitas to the sartorial statements. Yolanda's subliminal language is as nuanced as the clothes she designs. Filled with love, humanity and respect for the ties that have bound humanity together, her transcendent message was poignant.
When you visit the exhibit you'll see her joyful creations. When you understand the exhibit you'll appreciate why her designs define beauty punctuated with sparkle.