The Peabody Essex Museum in Salem, Massachusetts is hosting a sparkling exhibit of cultivated couture by fashion maven, Yolanda Cellucci.  The collection of bespoke attire, by various designers, is a sampling of statement-pieces drawn from the illustrious career of a trailblazing woman who celebrated style with a smile from Boston to Hollywood.
The fusion of forms are a hand-sewn chronicle of what the height of fabulous fashion was in the 1980's ~ 2000's. Like finds of the Gilded Age, Yolanda's collections are Rococo-esque reflections of societal aspirations of the time.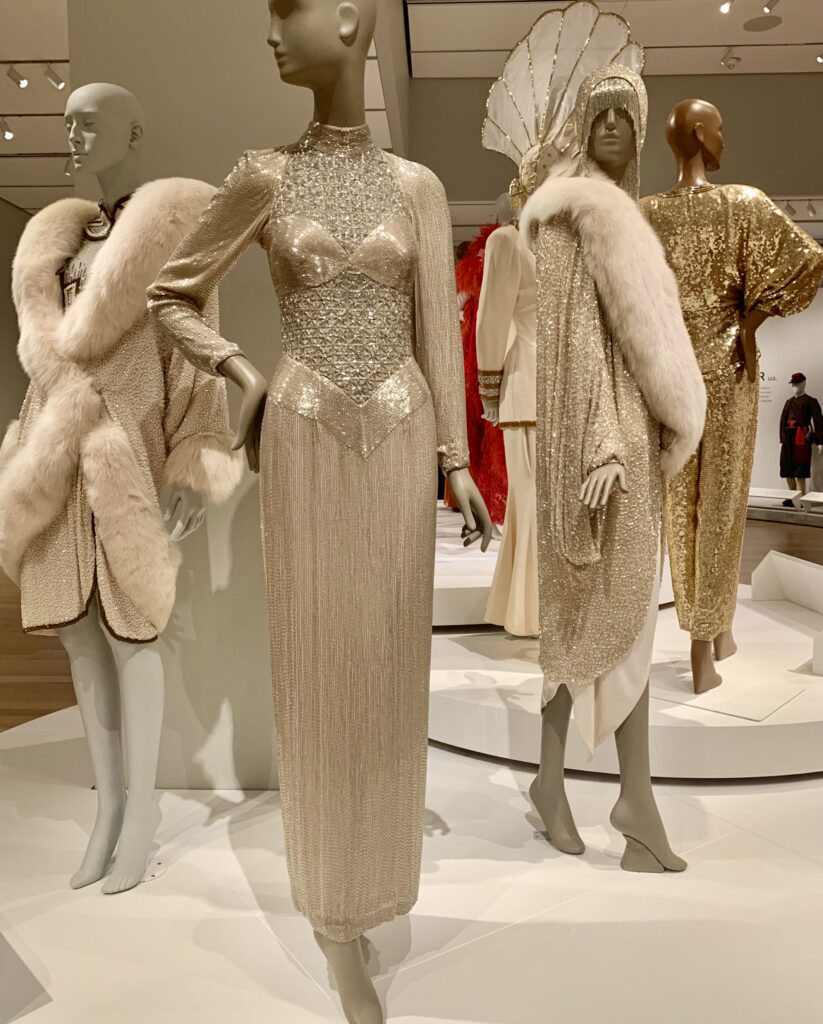 Unlike uninspired trend-seekers who lived in fear of ridicule, Yolanda's upscale clientele sought original designs that would express self-confidence.  Fashion was the format used by the 'Arbiter of Adornment' to delve into the unexpressed desires of her customer's psychological needs. Beadwork, rhinestones, and a touch of leather-trim may be just what the thread-doctor custom-ordered for an unintimidated woman ready to set herself free.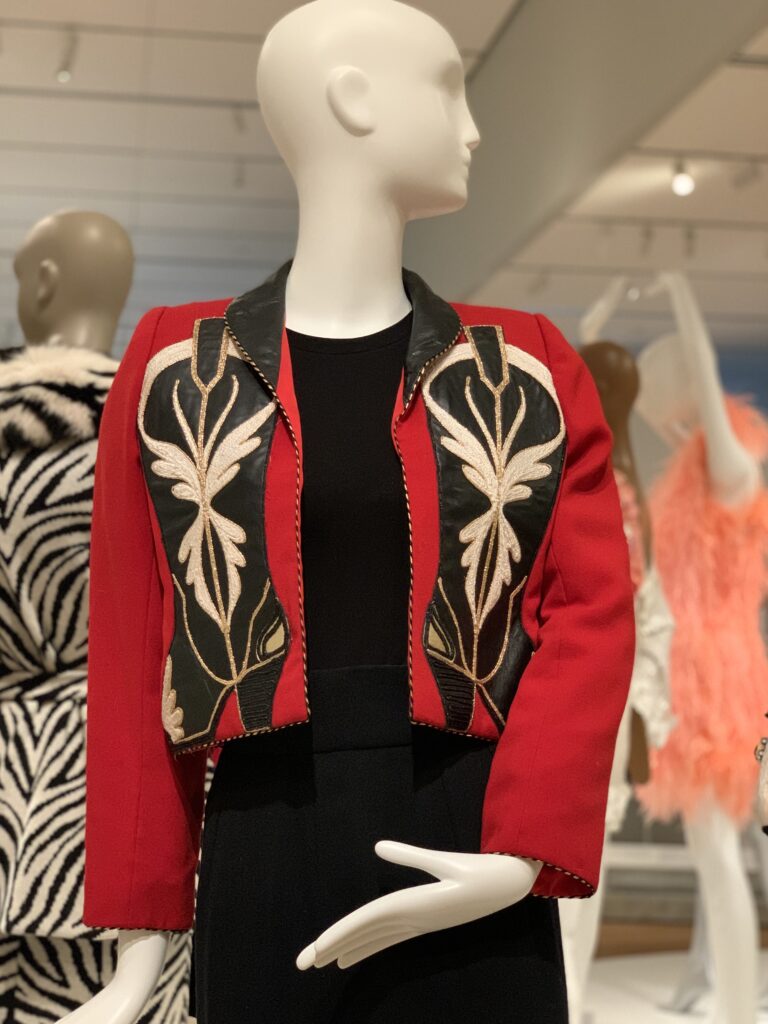 Yolanda nurtured the nuances of personal style.  Her intuitive approach to dressing a women articulated the woman's vivaciousness and sense of occasion. The convergence became a tribal language revelling in the fantastic, feminine and fun. With care, the finely finished result of an outfit with polished hair, make-up and accessories were designed to announce the arrival of a woman of power, well aware of her agency.
As an entrepreneur, Yolanda coupled her boundless work-ethic with attention to detail. Her legend for creating one-of-a-kind fashion-statements grew and she began dressing Cher, Dolly Parton and Mitzi Gaynor to name a few of women who saw her unique brand as a vehicle to enhance their stage presence. Her looks captured both motion and emotion. To be dressed by Yolanda became a signature of personal and professional success.
In many ways, the collection presented at PEM is an archeological treasure trove. The pieces are thoughtfully assembled to showcase an evolution in fashion.
Unapologetically bold the exhibit is far more than window dressing. It also prompts questions of substance, inviting guests to wonder why such inspired pieces are now seen as art forms ~ of the past. This complex curation of sartorial statements could challenge our cultural compass.
Yolanda's evocative collection is a tactile time-capsule reflecting the unraveling of a societal mind-set.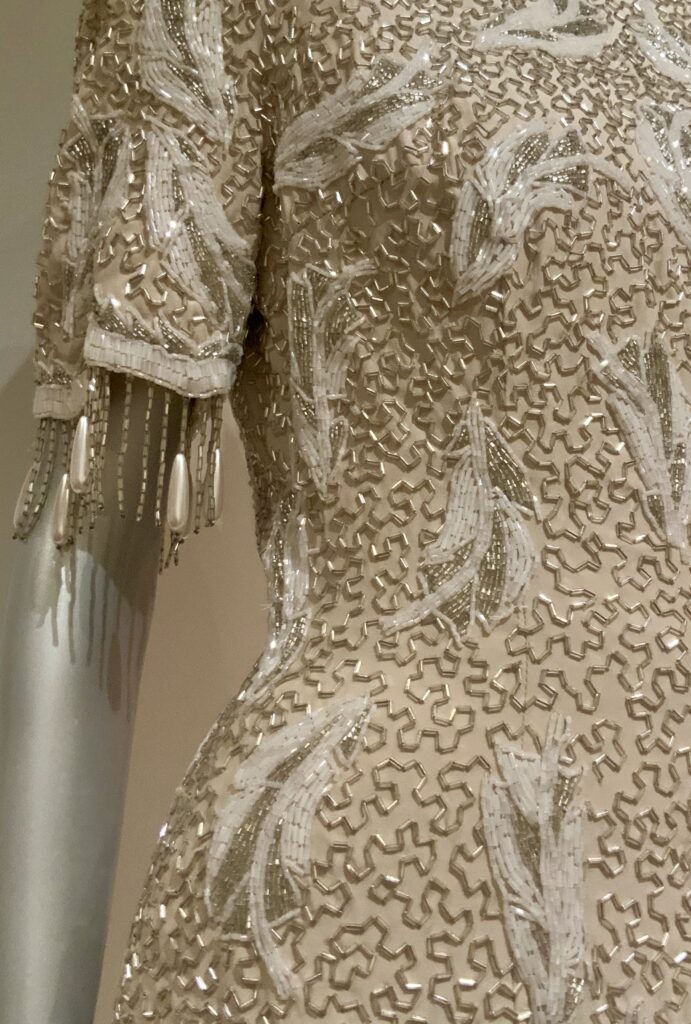 Adjacent to the gallery of glitz is a reimagined triple stage of clothing featuring the iconic style of Iris Apfel. The essence of this centenarian's singularly trendsetting vibe is untouched by time because her fashion-sense is derivative of her primal language.
Framed by a life of over-sized intercontinental travel with her husband Carl, the clothing of the Apfel's speaks to their global exposure to textile manufacturing. By trade, Carl and Iris were interior designers of acclaim, devoted to each other and exploring the world's most original juxtaposition of textures and trims. Immersed in exotic color, pattern and spontaneity Iris curated a look for herself and her late husband that is chic, sophisticated and timeless.
In today's parlance of anything goes, we are left to wonder where our style has gone. Ubiquitous is our attitudinal uniform of ~ by all means wear jeans~ to social events.
In contrast to celebrations of personal Za-Za-Zou, today's risk-adverse internet-fashionistas trace and retrace the seams of frayed denim and faded tees into an undistinguished zeitgeist. Because the looks du-jour lack the courage and conviction of either Yolanda or Iris, the 2023 collection of fashions "To Di For" miss the spark of creativity.
A sense of individualism and fearlessness have been trademarks of both Doyens of Design.  Defying conventionality, Yolanda and Iris imagined their worlds to fit their exuberant personalities to-a-tee.  Ultimately, the most substantive contribution of these artistic entrepreneurs maybe their encouragement to enjoy taking risks in fashion and business, having fun along the trail you blaze, and striving to create a head-turning look for yourself rather than follow a culture of mindless conformity.